Why We Love It
This Kyoto folding fan features the iconic blue lotus flowers artwork by illustrious contemporary visual artist Hideki Kimura. The series of original paintings are hand-drawn on the sliding panels within Kyoto's tranquil Shoren-in Temple.
The folding fan is handcrafted by Miyawaki Baisenan, one of the most revered fan makers in Kyoto. Making an authentic Kyoto folding fan takes more than 30 individual steps, utilizing only premium Japanese washi paper. The outer frame is sourced from local sandalwood, and emits a soothing aroma as you gently fan yourself.
Details
Handmade folding fan.
Made in Japan
Sandalwood, bamboo, washi paper
Product code: 35524BL

Size: 9" / 23cm

"Straight, Simple, Easy & Free."
This is the motto of celebrated contemporary artist Hideki Kimura, whose stunning creations have led him to be dubbed the "rock star" painter from Kyoto.
Born in Osaka, Japan in 1942, Kimura is a graduate of the Kyoto City University of Arts Department of Design. Kimura is also a pivotal figure in Japan's age of rock, having organized several legendary events such as Too Much, Japan's first rock music festival.
After retiring from teaching and celebrating his 60th birthday, Kimura turned to painting murals and to date has created more than 180 works in Japan and abroad.
Under his brand, Ki Yan Studio, Hideki Kimura continues to produce stunning visual works of art. His dynamic art style is fresh and evocative, and it is a fascinating combination of his background in Japan's early rock music scene and reverence for Japanese culture.
Many of Kyoto's temples and sidewalk and businesses have become Kimura's canvas and are instantly recognizable as they feature symbols unique to East Asian art such as carp fish, lotus flowers, elepants, and peacocks all done in his signature style. One such place of interest is Shoren-in Temple, where the sliding doors in the dining hall are beautifully decorated with lotus flowers.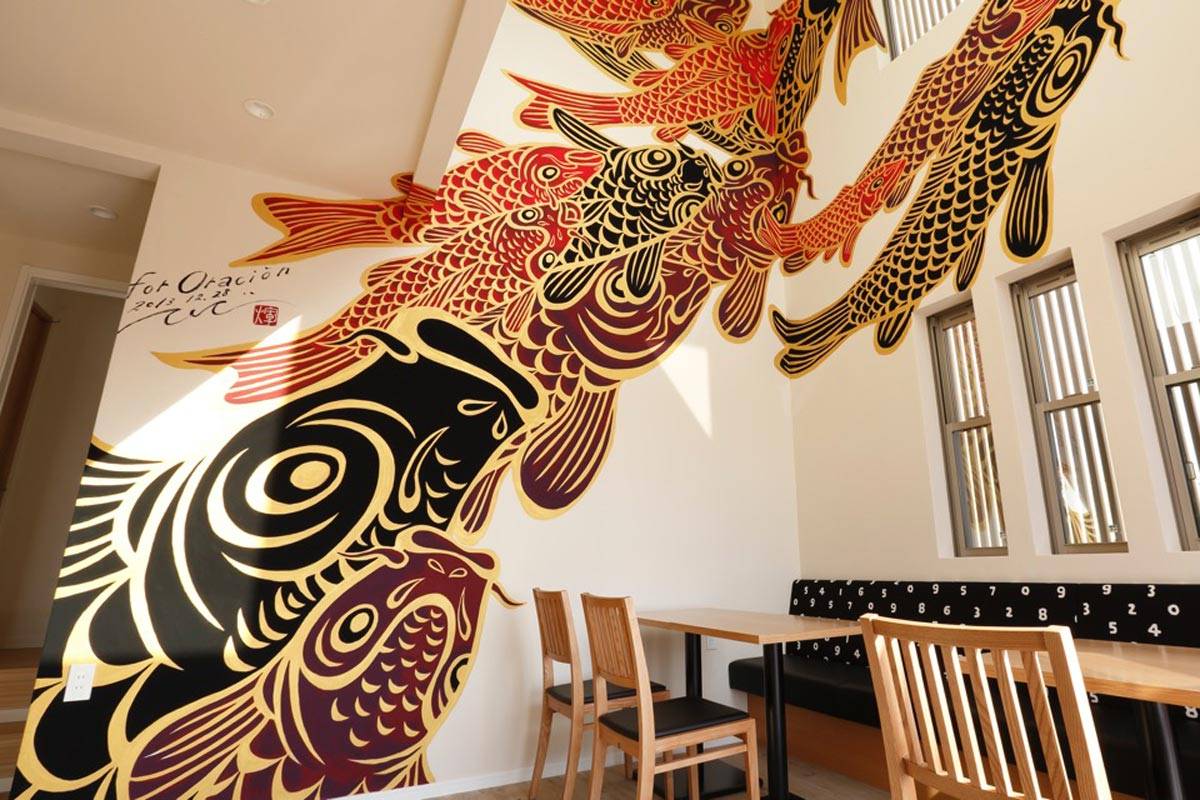 Ki Yan Studio is located in the Gion district of Kyoto and the selection of personal goods such as clothing, tableware, textiles, and stationery all feature artwork designed by Kimura or inspired by his murals.
Free Shipping
USA, Canada, Europe, Middle East, and East Asia: Enjoy FREE express shipping on all orders over $99!
Australia, New Zealand, and India: Enjoy FREE shipping on all orders over $199 USD.
Japan: Enjoy FREE shipping on all orders.
Shipping Times
USA, Canada, Europe, Middle East, and East Asia: Orders usually arrive within 3-5 days after shipment.
Australia, New Zealand, and India: Delivery is usually within a week, depending on local customs.
Japan: Orders typically arrive within 24 hours after shipment.

All other countries: Orders usually arrive within 4-5 days after shipment, depending on local customs.
Taxes
Shipments from Japan may be subject to additional taxes and handling fees imposed by customs and mail carriers. Customers are responsible for these costs.
Customs and import rules vary by country, for example the USA usually doesn't charge any extra fees, but the EU sometimes does. See here for information on selected countries.

If an order is returned due to refusal to pay local taxes or customs duties, the full two-way shipping costs will be deducted from any refund.

Shipments in the US may be subject to sales tax where mandated by federal and local authorities. Sales tax will be calculated at checkout.

Shipments within Japan are subject to consumption tax, which is included in the price.
Shipping Locations
All our products come to you from Japan.
Especially for customers in the USA, we can now also ship some items from our location in California to ensure the fastest delivery!
Track Your Order
Once your order has shipped, we will send you a confirmation email with a link to track your shipment.

Please note that it is the customer's responsibility to track shipments. If an order is returned due to non-collection, the full two-way shipping costs will be deducted from any refund.
If you would like to return your order for whatever reason, we're here to help! We offer no hassle returns within 30 days of receiving your order.
*Please note the following conditions to our return and exchange policy:
Items must be returned unused and folded in the original packaging.

Items must be returned to their original shipping location (this is usually in Tokyo).

Discounted items, or items purchased with store credit are not eligible for return or refund.

The original outward shipping cost (the full amount that we paid to the courier) will be deducted from the refund.

The customer is responsible for the return shipping cost.

For hygiene reasons, we cannot accept returns on earrings, futon mattresses and duvets, or mattress/duvet covers.
How do I claim my free refund?
Please contact us and we will confirm the shipping address for you to send the item.
Please return the item folded in its original packaging and send to the address that we provide, noting on the customs form 'Returned Item'.
Once we receive the returned item and have confirmed its condition as unused and undamaged, we will issue a refund not including shipping costs or duties.
Do I have to pay shipping costs?
We offer a full refund of the product, not including the original outward shipping costs. You must bear the cost of return shipping.
If you received the original order damaged, then we will also cover both the initial and the return shipping costs.
Can I exchange for a different product?
Yes! To exchange an unused and undamaged item, you can process the return as described above and reorder the new item through the website.
Alternatively, when you notify us about a return, let us know which product you would like as a replacement, and we will hold it in stock for you until we receive the original return. Please note, there may be additional shipping costs.
What if my item is damaged?
Very occasionally items may be damaged in transport. In the unlikely event that you item arrives in a damaged condition:
We ask that you contact us within 48 hours of receipt. This enables us to make a claim with the shipping company.
Please keep hold of the damaged item and provide some photos of the damage.
We will issue you with a full refund or replacement, including shipping costs.
How long will my refund take?
We will process the refund within 2 days of receiving the returned item.