Why We Love It
By infusing the traditional art of mizuhiki with hand-polished maple wood, RITUAL CRAFT's sculptural jewelry showcases timeless Japanese elegance.
Made from rice paper cord, mizuhiki is one of the gems of Japanese culture, and is often used for decorating small gifts given during special occasions such as weddings and childbirth. Each of RITUAL CRAFT's jewelry are carefully made by hand, with each piece of mizuhiki painstakingly applied to the earrings with the utmost precision.
The intricate combination of finely cut mizuhiki, and freshwater pearls creates a refined luster, whilst the hand-polished maple wood base of the earring keeps it lightweight and comfortable to wear. Pair Mizuhiki Pearl Earrings with your daily wear, or dress them up with a kimono or evening wear.
Details
Mizuhiki pearl earrings, handmade in Japan
Freshwater pearl, stainless steel earing post, mizuhiki (washi paper), maple wood
Diameter: ⅓ inch / 17mm
Product code: 28002BL
Delivered in wooden gift box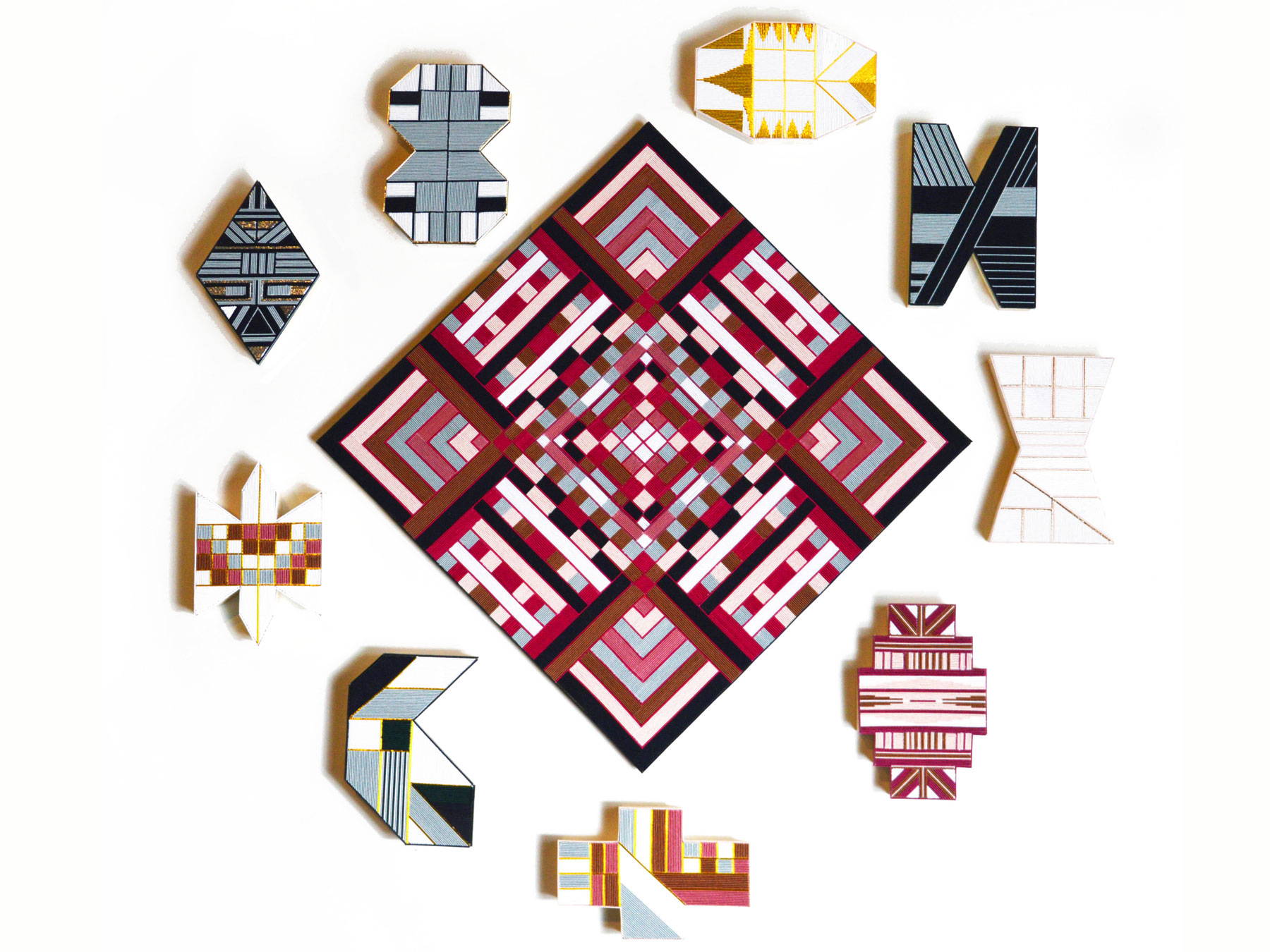 Prolific contemporary artist Shingo Nakata is seeking to create a new story for mizuhiki, using the traditional rice paper cords to create intricate, thought-provoking sculptures, art objects and handmade jewelry.
Born in Nagano prefecture, Nakata graduated from Tama Art University in Tokyo. Nakata's sculptural artworks have been featured in numerous galleries and museums, including Informel Nakagawamura Museum in Nagano. RITUAL Craft is an art jewelry brand established to develop the traditional craft of mizuhiki and bring it into the 21st century.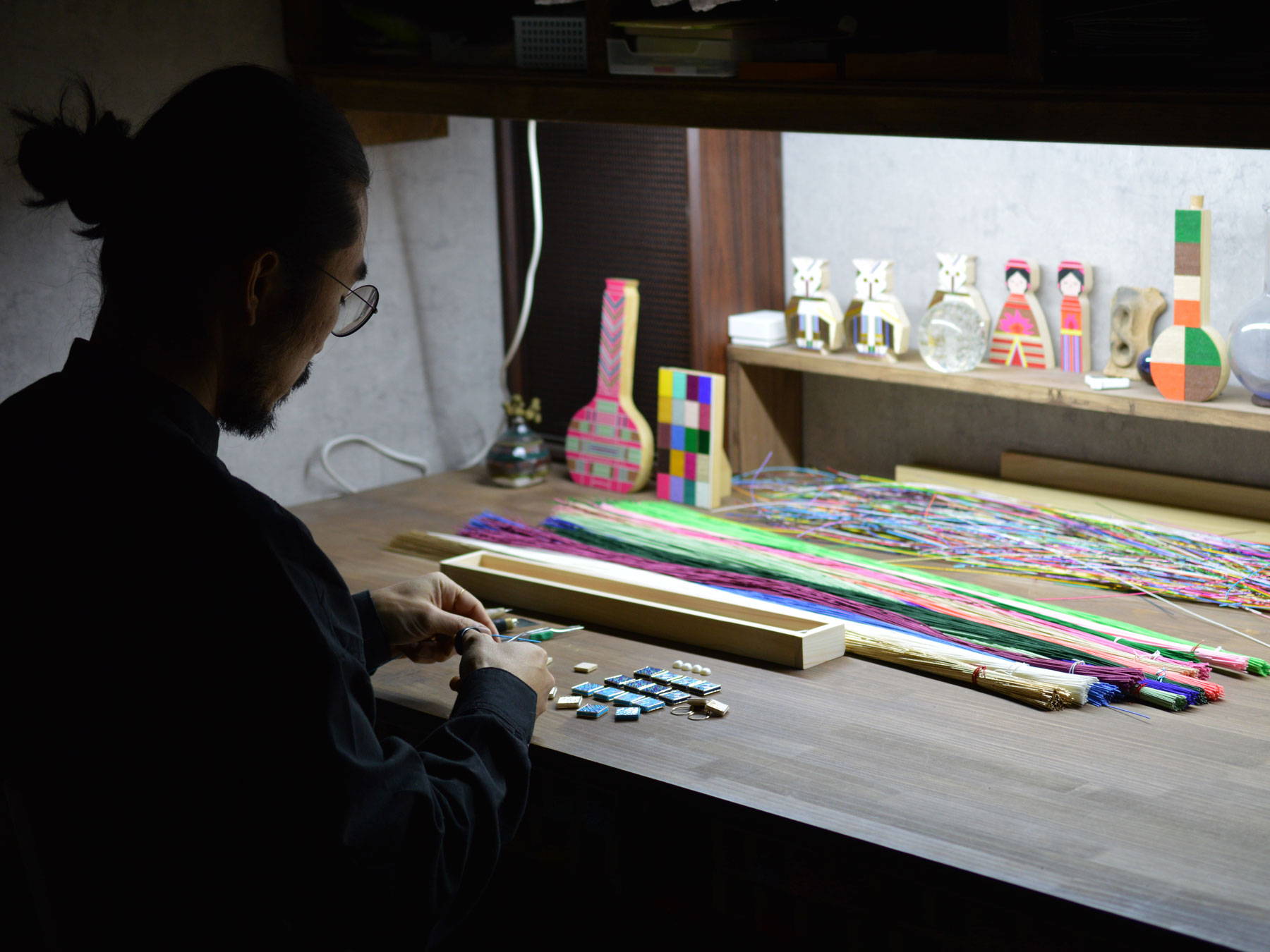 Mizuhiki's story began more than 1000 years ago when the Japanese saw the decorative cords that were wrapped around gifts brought back from China. Infused with ideas of spirituality, the Japanese developed the rice paper cords into elaborate knotted designs, in a wide variety of colors.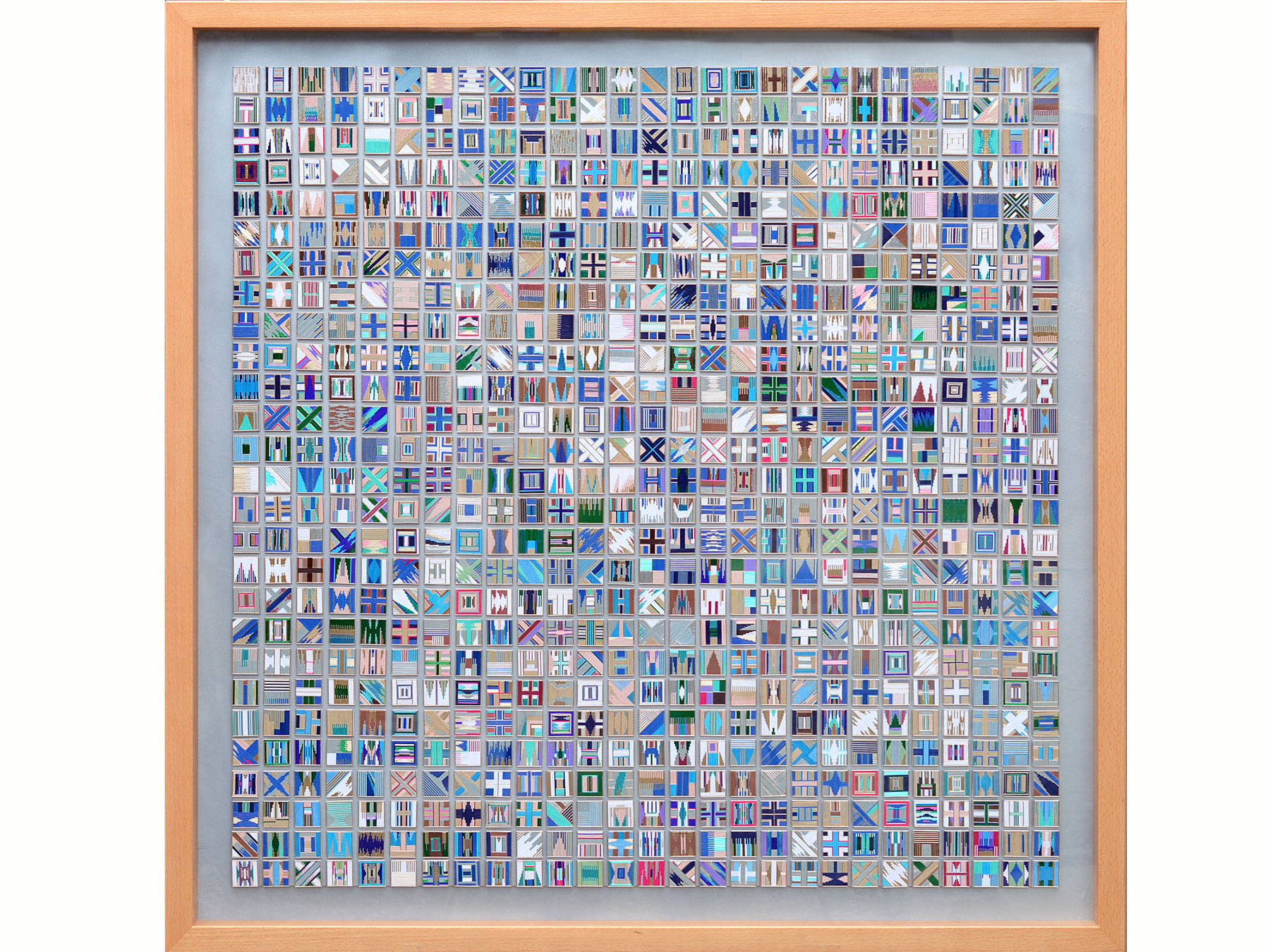 Nakata utilises mizuhiki to create artworks, developing his own innovative technique that is akin to 'drawing' with mizuhiki, rather than the traditional knotting method. This mozaic comes to life through Nakata's careful handiwork, painstakingly applying the small sections of mizuhiki piece by piece.
Shingo Nakata's ingenious craftsmanship takes on a meaningful departure from the mizuhiki knot, breathing new life into the ancient Japanese craft.
Free Shipping
USA, Canada, Europe, Middle East, and East Asia: Enjoy FREE express shipping on all orders over $99!
Australia, New Zealand, and India: Enjoy FREE shipping on all orders over $199 USD.
Japan: Enjoy FREE shipping on all orders.
Shipping Times
USA, Canada, Europe, Middle East, and East Asia: Orders usually arrive within 3-5 days after shipment.
Australia, New Zealand, and India: Delivery is usually within a week, depending on local customs.
Japan: Orders typically arrive within 24 hours after shipment.

All other countries: Orders usually arrive within 4-5 days after shipment, depending on local customs.
Taxes
Shipments from Japan may be subject to additional taxes and handling fees imposed by customs and mail carriers. Customers are responsible for these costs.
Customs and import rules vary by country, for example the USA usually doesn't charge any extra fees, but the EU sometimes does. See here for information on selected countries.

If an order is returned due to refusal to pay local taxes or customs duties, the full two-way shipping costs will be deducted from any refund.

Shipments in the US may be subject to sales tax where mandated by federal and local authorities. Sales tax will be calculated at checkout.

Shipments within Japan are subject to consumption tax, which is included in the price.
Shipping Locations
All our products come to you from Japan.
Especially for customers in the USA, we can now also ship some items from our location in California to ensure the fastest delivery!
Track Your Order
Once your order has shipped, we will send you a confirmation email with a link to track your shipment.

Please note that it is the customer's responsibility to track shipments. If an order is returned due to non-collection, the full two-way shipping costs will be deducted from any refund.
If you would like to return your order for whatever reason, we're here to help! We offer no hassle returns within 30 days of receiving your order.
*Please note the following conditions to our return and exchange policy:
Items must be returned unused and folded in the original packaging.

Items must be returned to their original shipping location (this is usually in Tokyo).

Discounted items, or items purchased with store credit are not eligible for return or refund.

The original outward shipping cost (the full amount that we paid to the courier) will be deducted from the refund.

The customer is responsible for the return shipping cost.

For hygiene reasons, we cannot accept returns on earrings, futon mattresses and duvets, or mattress/duvet covers.
How do I claim my free refund?
Please contact us and we will confirm the shipping address for you to send the item.
Please return the item folded in its original packaging and send to the address that we provide, noting on the customs form 'Returned Item'.
Once we receive the returned item and have confirmed its condition as unused and undamaged, we will issue a refund not including shipping costs or duties.
Do I have to pay shipping costs?
We offer a full refund of the product, not including the original outward shipping costs. You must bear the cost of return shipping.
If you received the original order damaged, then we will also cover both the initial and the return shipping costs.
Can I exchange for a different product?
Yes! To exchange an unused and undamaged item, you can process the return as described above and reorder the new item through the website.
Alternatively, when you notify us about a return, let us know which product you would like as a replacement, and we will hold it in stock for you until we receive the original return. Please note, there may be additional shipping costs.
What if my item is damaged?
Very occasionally items may be damaged in transport. In the unlikely event that you item arrives in a damaged condition:
We ask that you contact us within 48 hours of receipt. This enables us to make a claim with the shipping company.
Please keep hold of the damaged item and provide some photos of the damage.
We will issue you with a full refund or replacement, including shipping costs.
How long will my refund take?
We will process the refund within 2 days of receiving the returned item.
Beautiful earrings
Beautiful design, elegant wear