Why We Love It
Beloved by Japanese shopkeepers and merchants since the Edo period, maekake are more than just your regular kitchen apron.
This maekake Japanese apron is traditionally woven on a 100-year old loom by skilled craftsmen in Toyohashi, Aichi Prefecture. Using a highly specialized weaving method developed by one of the few remaining traditional makers of Japanese aprons, the 100% cotton canvas fabric is extremely durable yet comfortable.
The maekake is dyed in a traditional Japanese indigo color, which is fade-resistant. Emblazoned with a print of a maneki neko from a 19th century advert, it's an endearing design that embodies the charm of Japanese art.
The maekake apron is also tied with an iconic red and white belt for easy fastening and wraps around to fit the shape of each wearer. It helps support your lower back whether you are working in the kitchen, the workshop or the outdoors.
How to Use Your Maekake
To wear a maekake in the traditional apron style, rest the apron at the top of your hips. Cross the belt firmly around the back before bringing the ends forward and fastening firmly at the front. The lower back support provided by the maekake is said to not only help prevent back problems, but also provide extra energy during work.
Maekake can also be used to protect clothing when carrying items. Traditionally merchants would drape maekake on their shoulders to provide protection when carrying heavy bags of rice or grain.
Whilst not fireproof, the thick woven fabric can also provide some protection from heat and during activities such as gardening, and are often utilised by potters and other craftsmen.
Details
Japanese Maekake Apron, handmade in Japan
100% cotton canvas.
Adjustable waist ties.
Product code: 17223NV
Size: 26" x 18½" (67cm x 47cm), strap 102" (260cm), suitable for waist sizes up to 37" (95cm).
Handwash separately in cold water.
Mount Fuji Japanese Maekake Apron
Used for over 200 years by Japanese merchants, workmen and shopkeepers, maekake have long been an important object in both Japanese fashion and social history. These days it has become more and more difficult to find this authentic style of Japanese apron.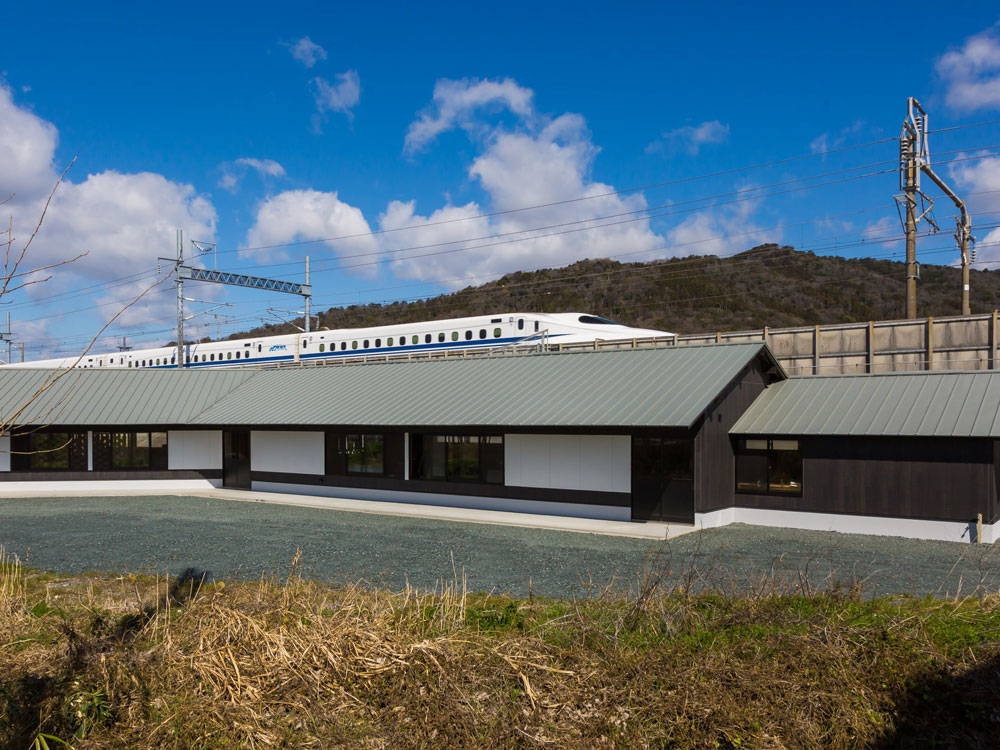 Anything Co Maekake Factory
To save the maekake apron, ANYTHING Co. was founded in 2004 to weave maekake aprons in the traditional way in Toyohashi, Aichi Prefecture, using looms that are more than 100 years old. Rather than look towards quick and easy mass production methods, the team at ANYTHING returned to basics. Their richly textured, indigo fabric in their maekake has been developed thanks to the knowledge of a few remaining traditional maekake craftsmen in Toyohashi.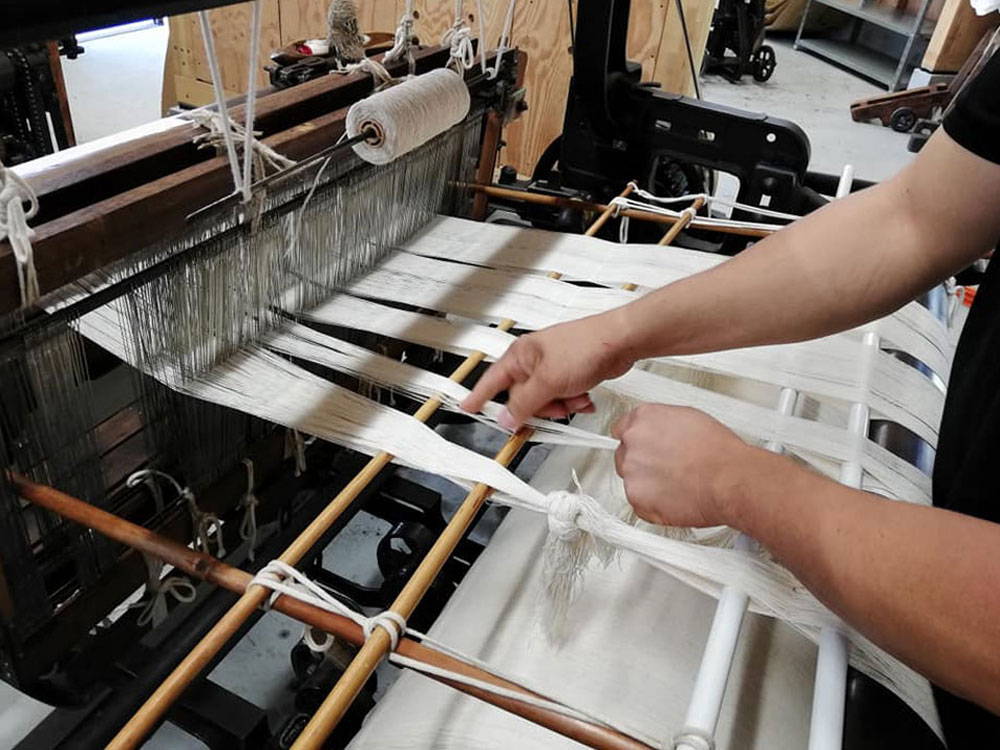 Traditional Maekake Craftsmanship
Unlike mass-produced maekake, ANYTHING's maekake are created from completely original fabrics that are carefully woven by craftsmen to allow both flexibility and durability with a canvas that softens to fit the user over time.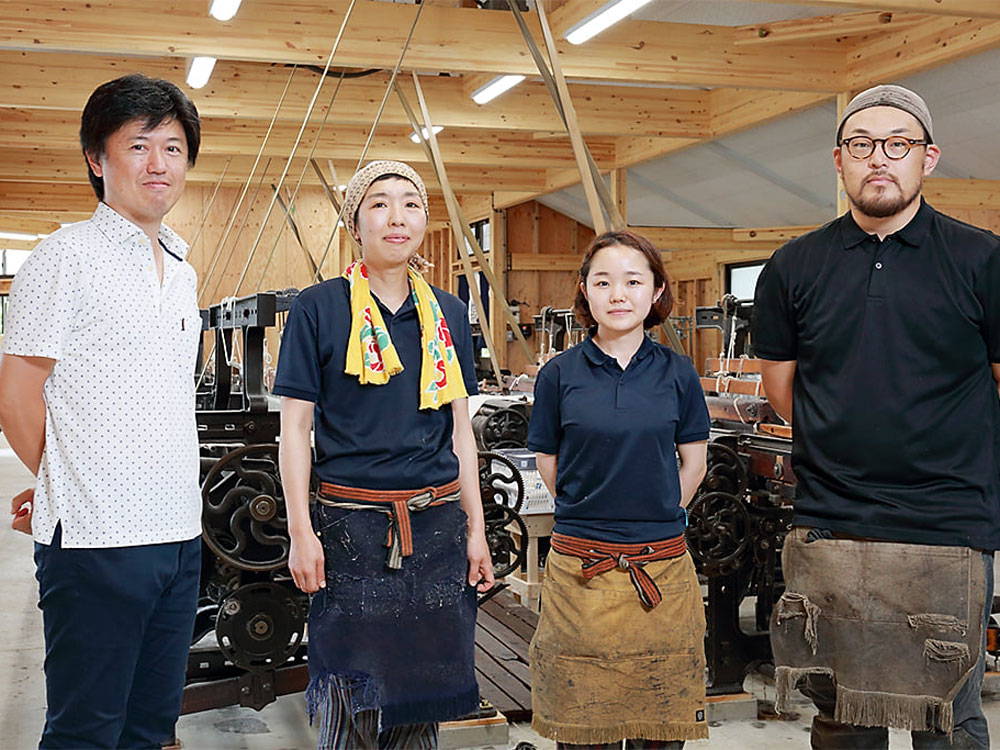 Each of ANYTHING's maekake are created carefully by hand, one apron at a time. Maekake are not just an important part of Japan's history, but preserving the craftsmanship involved is essential for the future of Japanese heritage.
We ship to every country in the world direct from Tokyo.
Customers in the U.S.A. can now also enjoy even faster delivery with domestic shipping on selected items. Shipping is free on any order over USD $149. Free Shipping is either by USPS Express (3-5 days) or Japan Post EMS if shipping from Tokyo (6-10 days). Your items may be sent separately to make sure they arrive as quickly as possible.
Customers in Canada, the UK, France, Germany and Australia, can enjoy Free Express Shipping on any order over USD by Japan Post EMS usually takes between 6-10 days.
Customers in Japan can enjoy Free Shipping on any order, which will usually arrive within 1-2 days.
Customers in the rest of the world can enjoy Free Shipping on any order over USD $99 by registered airmail, which usually takes around 10-14 days. Please note that due to pandemic related restrictions, postal services are currently suspended to some countries. Please see the shipping update below for a full list of countries affected.
Other shipping options and costs vary by destination and include:
1) Standard shipping by registered airmail, which usually takes about 10-14 days.
2) Express shipping with Japan Post's EMS service, which usually takes between 6-10 days.
3) FedEx Priority usually takes 2-5 days. We offer a subsidised flat rate to keep prices low.
4) USPS Express for domestic shipments within the U.S.A., which takes 3-5 days
5) DHL for the fastest U.S. domestic shipments, which takes 1-3 days.
All options include tracking information.
Taxes & Customs
Shipments from Japan to your country may be subject to additional taxes and handling fees imposed by the customs authorities and mail carrier of your country and region. Such costs are the responsibility of the customer.
Customs and import rules vary by country and region, so unfortunately we're not able to estimate these in advance. The best way to be sure if any such charges will be applied is to check with your local customs authority.
Shipments from within the U.S.A. are subject to sales tax where mandated by federal and local authorities. This will be calculated at checkout.
Shipments within Japan are subject to consumption tax, which is included in the price.
---
Shipping Updates - May 2023
Due to the pandemic and the current situation in Eastern Europe, postal services to some countries have been temporarily suspended by Japan Post, however FedEx services are still available. If you are in one of the countries named below you can either choose FedEx Priority, or you can choose to have us hold on to your order until postal restrictions are lifted.
Countries where only FedEx is available
South America: All countries
Europe: Albania, Andorra, Cyprus, Georgia, Kosovo, Monaco, Montenegro, North Macedonia, Serbia, Slovakia
(Unfortunately, there are no shipping options currently available for customers in Ukraine, Russia, or Belarus.)
Asia: Afghanistan, Bangladesh, Bahrain, Bhutan, Brunei, Cambodia, India, Iran, Iraq, Jordan, Kuwait, Laos, Maldives, Mongolia, Nepal, Oman, Pakistan, Saudi Arabia, Syria, Timor-Leste, UAE
Africa: All countries
Oceania: All countries except Australia & New Zealand
---
Within Japan
If you're in Japan, all shipping is free! You will receive your shipment within 1-2 days on the island of Honshu (the main island, including Tokyo, Osaka and Kyoto), or 2-3 days for the rest of Japan. It may take an additional day if you order on a weekend or if you are located in Okinawa or the outlying islands.
If you're staying in a hotel in Japan, please include the reservation name and room number, otherwise your hotel may refuse to accept your package.
Tracking your Shipment
As soon as your order has shipped we will send you a confirmation email with a link to your order status. You will be able to track your shipment from there. It is the customer's responsibility to track shipments, and we will not be able to refund the shipping fees charged by the courier in case a shipment is returned due to non-collection.
If you would like to return or exchange your order for whatever reason, we're here to help! We offer no hassle returns or exchanges within 30 days of receiving your order. You can return your product for a different product, or a refund to the original payment method.
*Please note the following conditions to our return and exchange policy:
Items must be returned unused and folded in the original packaging

Discounted items or items purchased with store credit are not eligible for refund

Shipping costs are not refundable. Shipping costs refers to the full amount paid to Japan Post or FedEx.

You must provide proof of postage showing the postage date within the 30 days

For hygiene reasons, we cannot accept returns on earrings, futon mattresses, or mattress covers

Items marked Direct from Designer, have a refund period of 7 days instead of 30.
How do I claim my free refund?
Please contact us and we will confirm the shipping address for you to send the item.
Please return the item folded in its original plastic bag (don't worry about the paper wrapping) and send to the address that we provide, noting on the customs form 'Returned Item'. Please note that you must bear the shipping costs.
Once we receive the returned item and have confirmed its condition as unused and undamaged, we will issue a refund not including shipping costs or duties.
Do I have to pay shipping costs?
We offer a full refund of the product, not including the original shipping costs. You must bear the cost of return shipping.
If you received the original order damaged, then we will also cover both the initial and the return shipping costs.
Can I exchange for a different product?
Yes! To exchange an unused and undamaged item, you can process the return as described above and reorder the new item through the website.
Alternatively, when you notify us about a return, let us know which product you would like as a replacement, and we will hold it in stock for you until we receive the original return. Please note, there may be additional shipping costs.
What if my item is damaged?
Very occasionally items may be damaged in transport. In the unlikely event that you item arrives in a damaged condition:
We ask that you contact us within 48 hours of receipt. This enables us to make a claim with the shipping company.
Please keep hold of the damaged item and provide some photos of the damage.
We will issue you with a full refund or replacement, including shipping costs.
Who decides if I receive a refund or a replacement?
You do!
If you are entitled to a refund or replacement as described above, it is your choice which you receive.
If we no longer have the same item in stock, we will suggest one or more similar items. If you do not want the similar item, we will provide a refund instead.
How long will my refund take?
We will process the refund within 2 days of receiving the returned item.
Maekake apron
Beautiful product! Support was very helpful in helping to track the shipping as well!
Thank you.