Why We Love It
Beloved by Japanese shopkeepers and merchants since the Edo period, maekake are more than just your regular kitchen apron.
This maekake Japanese apron is traditionally woven on a 100-year old loom by skilled craftsmen in Toyohashi, Aichi Prefecture. Using a highly specialized weaving method developed by one of the few remaining traditional makers of Japanese aprons, the 100% cotton canvas fabric is extremely durable yet comfortable. The thicker, higher grade canvas reproduces the quality and longevity of handmade maekake from Edo period when they could be passed from generation to generation.
This maekake features practical two large front pockets, reinforced with rivets, and is dyed by craftsmen in a traditional, fade resistant Japanese indigo blue.
The maekake apron is also tied with an iconic red and white belt for easy fastening and wraps around to fit the shape of each wearer. It helps support your lower back whether you are working in the kitchen, the workshop or the outdoors.
How to Use Your Maekake
To wear a maekake in the traditional apron style, rest the apron at the top of your hips. Cross the belt firmly around the back before bringing the ends forward and fastening firmly at the front. The lower back support provided by the maekake is said to not only help prevent back problems, but also provide extra energy during work.
Maekake can also be used to protect clothing when carrying items. Traditionally merchants would drape maekake on their shoulders to provide protection when carrying heavy bags of rice or grain.
Whilst not fireproof, the thick woven fabric can also provide some protection from heat and during activities such as gardening, and are often utilised by potters and other craftsmen.
Details
Japanese Maekake Apron, handmade in Japan
100% cotton canvas.
Adjustable waist ties.
2 pockets.
Product code: 17167NV
Size: 26" x 18½" (67cm x 47cm), strap 102" (260cm), suitable for waist sizes up to 37" (95cm).
Handwash separately in cold water.
Mount Fuji Japanese Maekake Apron
Used for over 200 years by Japanese merchants, workmen and shopkeepers, maekake have long been an important object in both Japanese fashion and social history. These days it has become more and more difficult to find this authentic style of Japanese apron.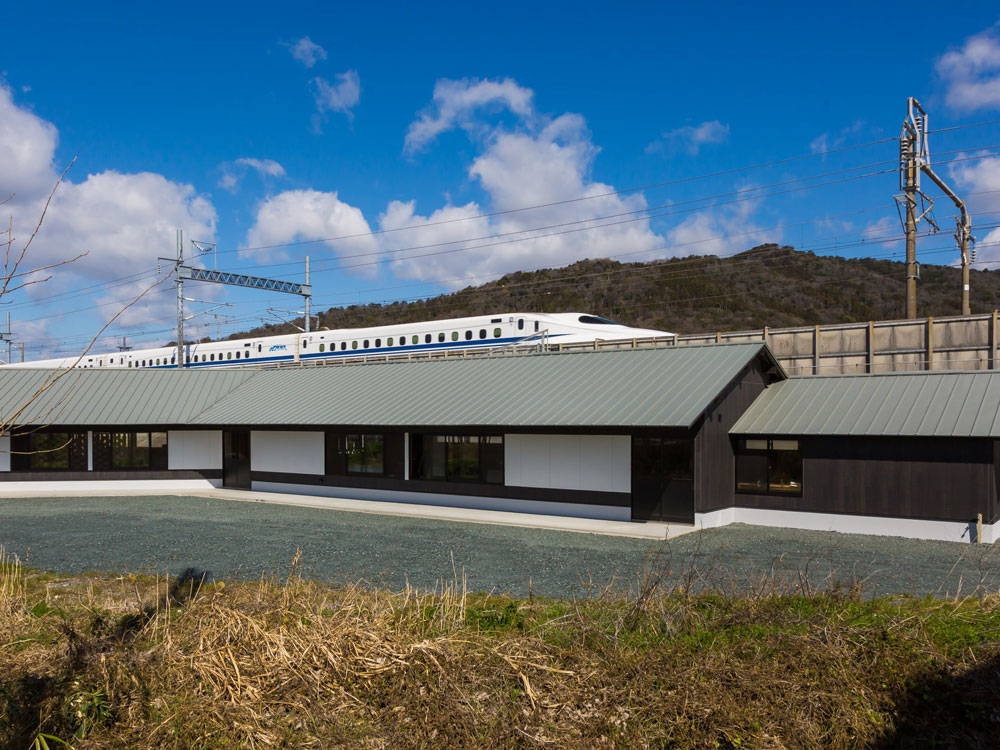 Anything Co Maekake Factory
To save the maekake apron, ANYTHING Co. was founded in 2004 to weave maekake aprons in the traditional way in Toyohashi, Aichi Prefecture, using looms that are more than 100 years old. Rather than look towards quick and easy mass production methods, the team at ANYTHING returned to basics. Their richly textured, indigo fabric in their maekake has been developed thanks to the knowledge of a few remaining traditional maekake craftsmen in Toyohashi.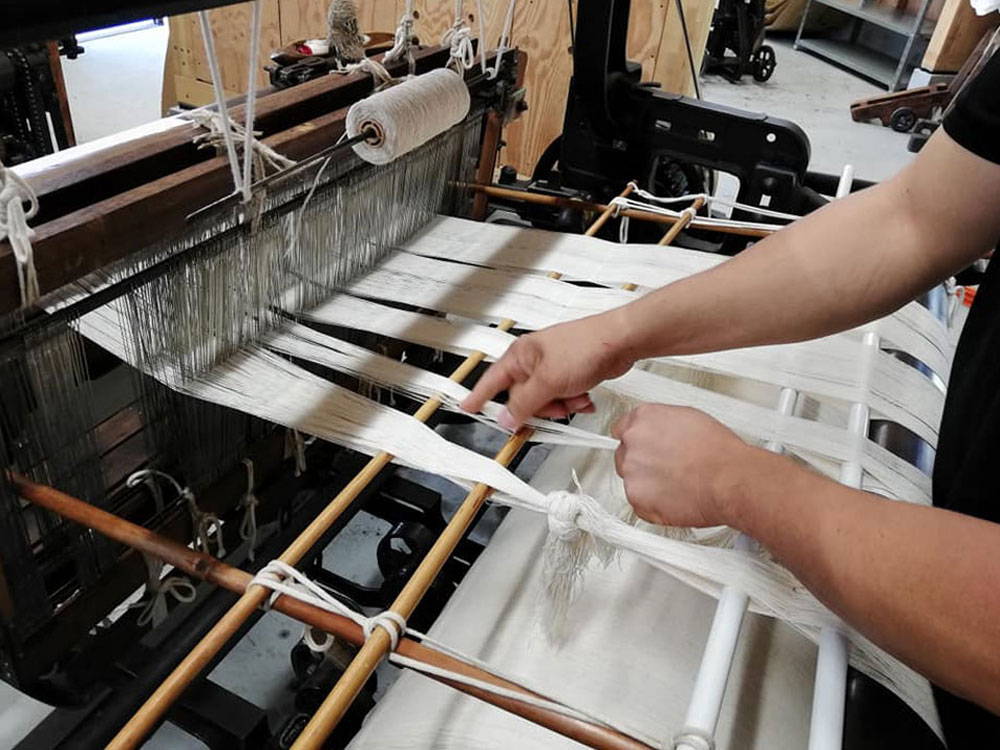 Traditional Maekake Craftsmanship
Unlike mass-produced maekake, ANYTHING's maekake are created from completely original fabrics that are carefully woven by craftsmen to allow both flexibility and durability with a canvas that softens to fit the user over time.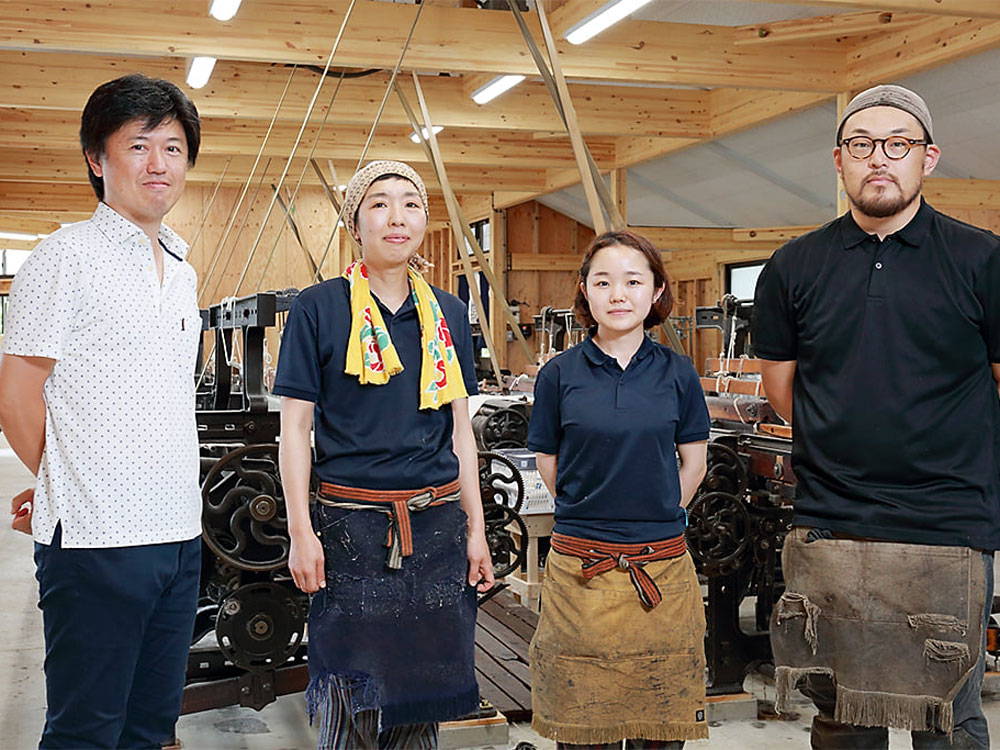 Each of ANYTHING's maekake are created carefully by hand, one apron at a time. Maekake are not just an important part of Japan's history, but preserving the craftsmanship involved is essential for the future of Japanese heritage.
Free Shipping
USA, Canada, Europe, Middle East, and East Asia: Enjoy FREE express shipping on all orders over $99!
Australia, New Zealand, and India: Enjoy FREE shipping on all orders over $199 USD.
Japan: Enjoy FREE shipping on all orders.
Shipping Times
USA, Canada, Europe, Middle East, and East Asia: Orders usually arrive within 3-5 days after shipment.
Australia, New Zealand, and India: Delivery is usually within a week, depending on local customs.
Japan: Orders typically arrive within 24 hours after shipment.

All other countries: Orders usually arrive within 4-5 days after shipment, depending on local customs.
Taxes
Shipments from Japan may be subject to additional taxes and handling fees imposed by customs and mail carriers. Customers are responsible for these costs.
Customs and import rules vary by country, for example the USA usually doesn't charge any extra fees, but the EU sometimes does. See here for information on selected countries.

If an order is returned due to refusal to pay local taxes or customs duties, the full two-way shipping costs will be deducted from any refund.

Shipments in the US may be subject to sales tax where mandated by federal and local authorities. Sales tax will be calculated at checkout.

Shipments within Japan are subject to consumption tax, which is included in the price.
Shipping Locations
All our products come to you from Japan.
Especially for customers in the USA, we can now also ship some items from our location in California to ensure the fastest delivery!
Track Your Order
Once your order has shipped, we will send you a confirmation email with a link to track your shipment.

Please note that it is the customer's responsibility to track shipments. If an order is returned due to non-collection, the full two-way shipping costs will be deducted from any refund.
If you would like to return your order for whatever reason, we're here to help! We offer no hassle returns within 30 days of receiving your order.
*Please note the following conditions to our return and exchange policy:
Items must be returned unused and folded in the original packaging.

Items must be returned to their original shipping location (this is usually in Tokyo).

Discounted items, or items purchased with store credit are not eligible for return or refund.

The original outward shipping cost (the full amount that we paid to the courier) will be deducted from the refund.

The customer is responsible for the return shipping cost.

For hygiene reasons, we cannot accept returns on earrings, futon mattresses and duvets, or mattress/duvet covers.
How do I claim my free refund?
Please contact us and we will confirm the shipping address for you to send the item.
Please return the item folded in its original packaging and send to the address that we provide, noting on the customs form 'Returned Item'.
Once we receive the returned item and have confirmed its condition as unused and undamaged, we will issue a refund not including shipping costs or duties.
Do I have to pay shipping costs?
We offer a full refund of the product, not including the original outward shipping costs. You must bear the cost of return shipping.
If you received the original order damaged, then we will also cover both the initial and the return shipping costs.
Can I exchange for a different product?
Yes! To exchange an unused and undamaged item, you can process the return as described above and reorder the new item through the website.
Alternatively, when you notify us about a return, let us know which product you would like as a replacement, and we will hold it in stock for you until we receive the original return. Please note, there may be additional shipping costs.
What if my item is damaged?
Very occasionally items may be damaged in transport. In the unlikely event that you item arrives in a damaged condition:
We ask that you contact us within 48 hours of receipt. This enables us to make a claim with the shipping company.
Please keep hold of the damaged item and provide some photos of the damage.
We will issue you with a full refund or replacement, including shipping costs.
How long will my refund take?
We will process the refund within 2 days of receiving the returned item.
Serene Power
I bought an apron to wear in the shop maybe 20 years ago. Did not like it all but I'm the one to use what I buy whether it works for me or not. My old apron was wearing out so I wanted something to replace it, but one that I liked putting on in the morning. Well I found it with the Maekake with pockets here. I cinch it up nice and tight in the morning and this feeling of serene power comes over me. Can't put my finger on why, I just accept it as intrinsic to the apron. This should be the last apron I need to have. The pockets are just a wonderful addition to sink your hands into. I do have another tool carrying item I wear under it but it's facing the rear of me. I bought an extra one to give to my brother when I visit him in the Spring.