Why We Love It
Handcrafted in Kyoto by Tomoko Fujii of RITOFU, this elegant silk clutch showcases the technique of kyo-yuzen, a 17th century method of handpainting kimono fabric unique to Kyoto. In fact, kyo-yuzen is considered the most refined and intricate dyeing techniques; it is renowned across Japan for its luxuriousness and fine texture.
On the front panel of this kyo-yuzen silk clutch, the fine pattern of the genuine Japanese silk is visible through the handpainted design, adding a rich tapestry of texture. The four seasons of Japan are beautifully represented in the various shades of the zuiun pattern: an iridescent cloud formation, which has an auspicious meaning in Buddhism. On the reverse panel, a delicate floral pattern peeks through the solid color and can be seen from different angles and lighting.
Complementing the silk clutch is a detachable chain and invisible magnetic closure. Measuring 11" x 5.5" (28cm x 14 cm), this silk clutch comfortably holds all your daily essentials such as a smartphone, keys, wallet and cosmetics without being bulky. There is also a zipped interior compartment for added security.
Each bag is handmade from water-repellant silk kimono fabric, and can be worn on a variety of occasions. Wear it over your shoulder or detach the chain strap to carry it as a clutch. An artful blend of Japanese tradition and contemporary fashion; pair this versatile clutch with formal evening wear, casual attire, or even your kimono or yukata.
Details
Kyo-yuzen silk clutch with black and pastel handpainted design
100% silk exterior; rayon interior lining
Handmade in Japan
Detachable chain
Magnetic clasp
Zipper interior compartment
Comes with dust bag and box
Size 11" x 5.5" (28cm x 14 cm)
Product code: 40119PS
Free shipping worldwide!

RITOFU was created from Kyoto atelier Tomihiro Hand-Dyeing, specializing in accessories made using kyo-yuzen. The intricate and colourful kimono made here by master textile artist Hiroshi Fujii are highly sought after. Even the Japanese Imperial Family are known to be fans.
Now, the second generation artisan, Tomoko Fujii, is taking her turn at the helm. Her guiding philosophy as a kimono-maker in the 21st century is Everyday Living with Kimono, which is where the idea for RITOFU came from.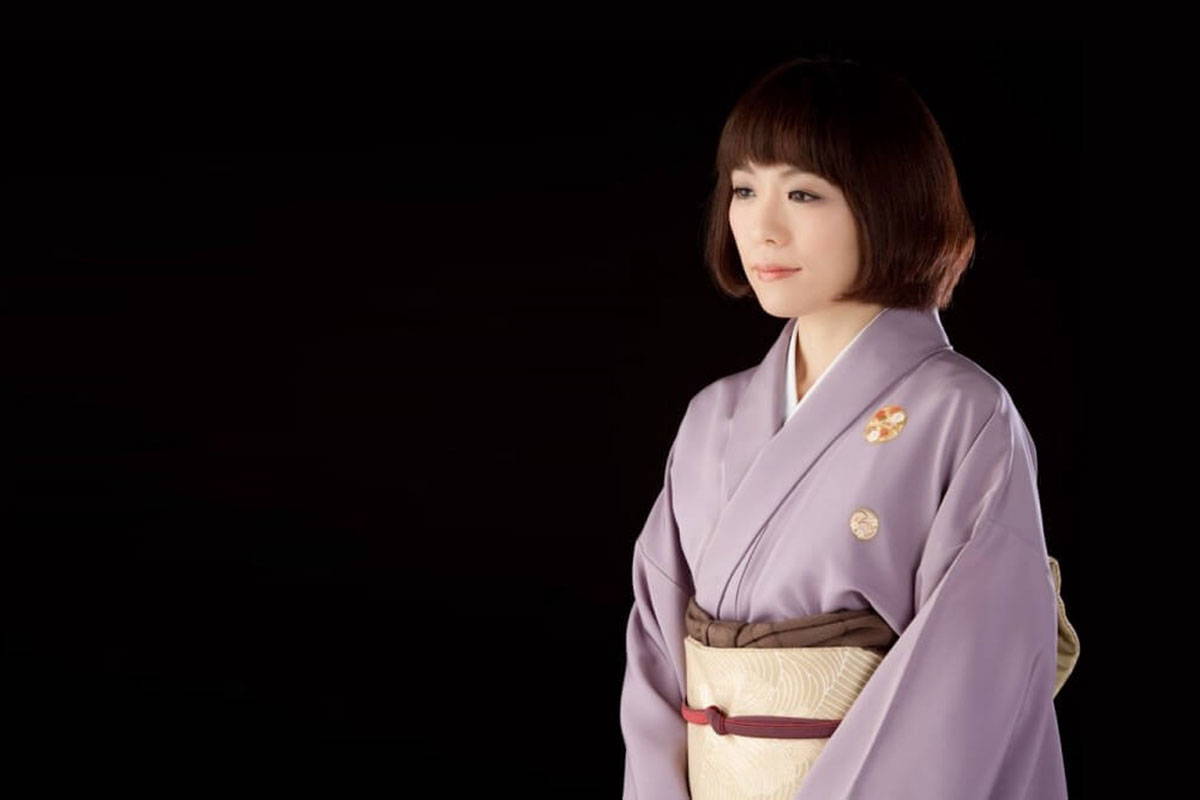 Tomoko Fujii, RITOFU Founder
Ritofu utilizes the inimitable silk kimono fabric, that her family company produces, to design a great variety of gorgeous Japanese objects, from furoshiki wrapping cloths, and tumblers, to jewelry boxes, and of course these unique and eye-catching silk clutches. Fujii aims to ensure that kimono and fine Japanese silk are not just luxury products reserved strictly for formal occasions: they are now covetable objects to be both admired and used.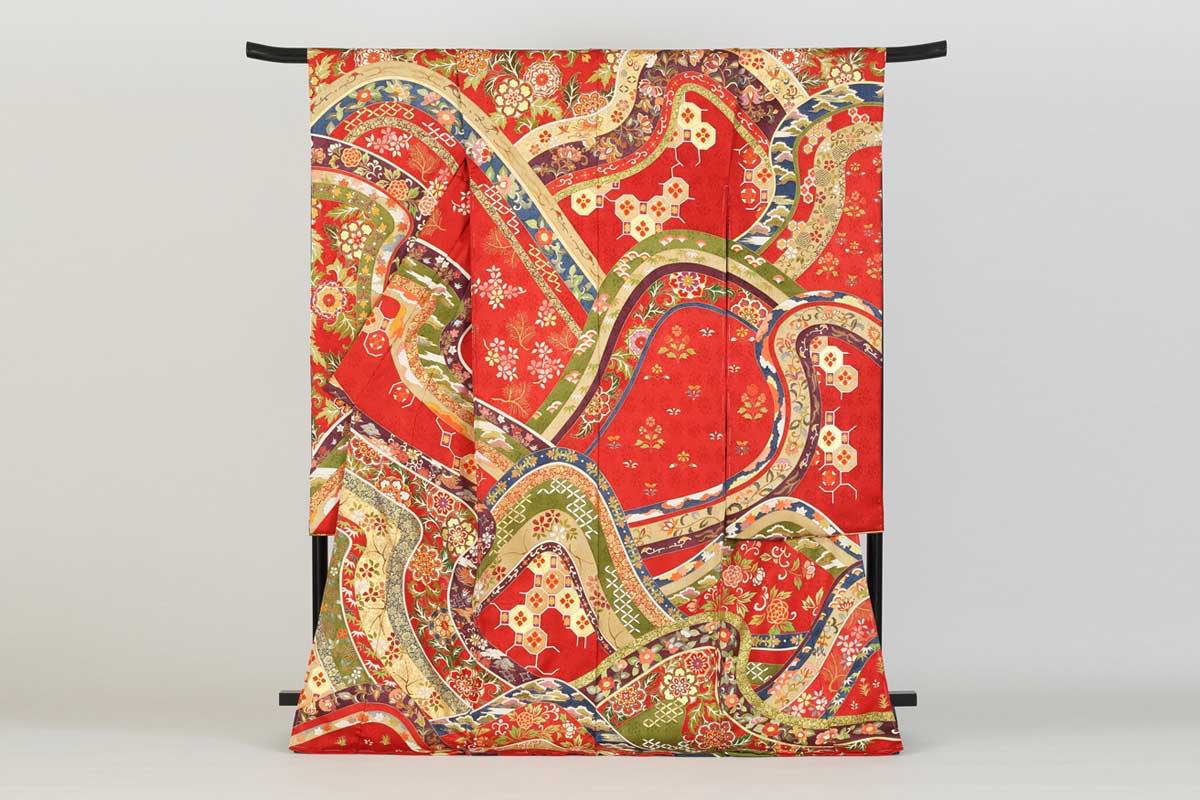 Kyo-yuzen kimono by Hiroshi Fujii
The particular designs of the kyo-yuzen clutch require the expertise of generations. Patterns are hand-painted on the finely woven silk in dye-resistant paste, before various colors of dye are applied, in a process that takes many days. The final design is then painted by hand directly onto the fabric, which is cut and crafted into original one-of-a-kind pieces.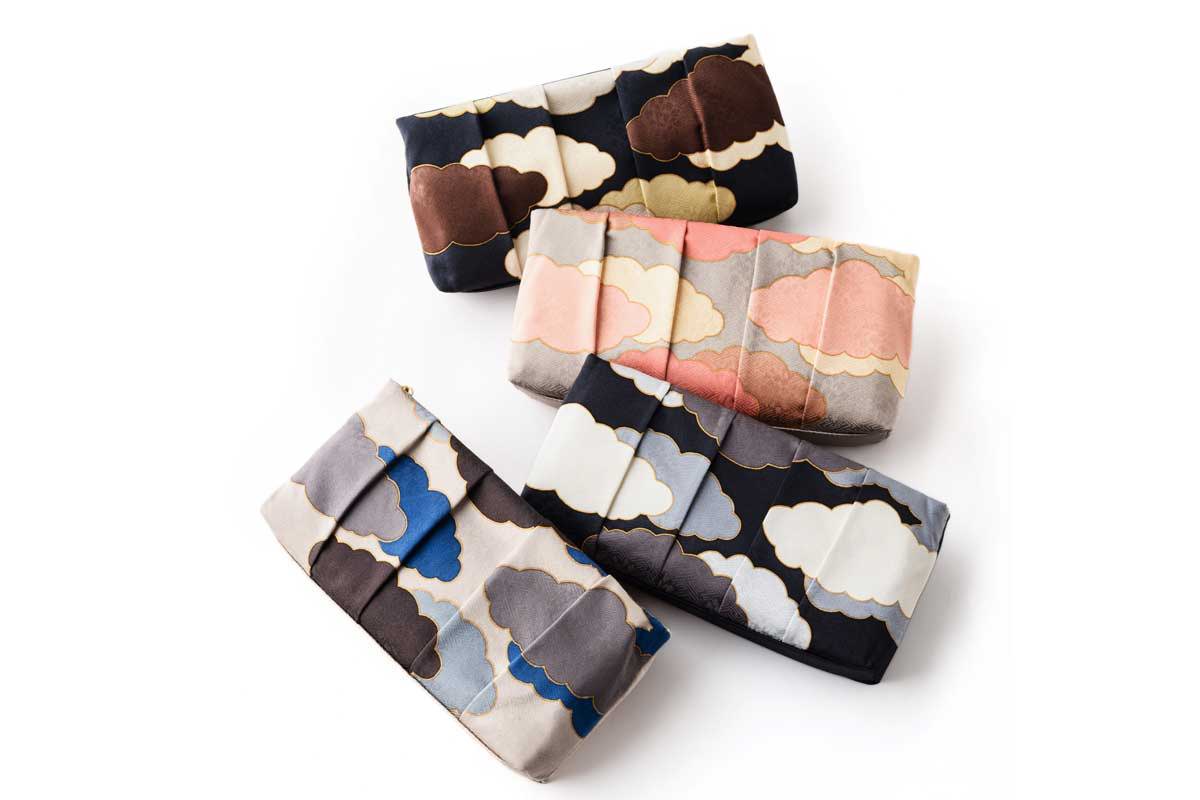 RITOFU's kyo-yuzen silk clutch has been selected by the Wonder 500 project, a Cool Japan initiative showcasing 500 innovative wares from across Japan's 47 prefectures. See for yourself the fine craftsmanship and quality of this accent piece.
We ship to every country in the world direct from Tokyo.
Customers in the U.S.A. can now also enjoy even faster delivery with domestic shipping on selected items. Shipping is free on any order over USD $149. Free Shipping is either by USPS Express (3-5 days) or Japan Post EMS if shipping from Tokyo (6-10 days). Your items may be sent separately to make sure they arrive as quickly as possible.
Customers in Canada, the UK, France, Germany and Australia, can enjoy Free Express Shipping on any order over USD by Japan Post EMS usually takes between 6-10 days.
Customers in Japan can enjoy Free Shipping on any order, which will usually arrive within 1-2 days.
Customers in the rest of the world can enjoy Free Shipping on any order over USD $99 by registered airmail, which usually takes around 10-14 days. Please note that due to pandemic related restrictions, postal services are currently suspended to some countries. Please see the shipping update below for a full list of countries affected.
Other shipping options and costs vary by destination and include:
1) Standard shipping by registered airmail, which usually takes about 10-14 days.
2) Express shipping with Japan Post's EMS service, which usually takes between 6-10 days.
3) FedEx Priority usually takes 2-5 days. We offer a subsidised flat rate to keep prices low.
4) USPS Express for domestic shipments within the U.S.A., which takes 3-5 days
5) DHL for the fastest U.S. domestic shipments, which takes 1-3 days.
All options include tracking information.
Taxes & Customs
Shipments from Japan to your country may be subject to additional taxes and handling fees imposed by the customs authorities and mail carrier of your country and region. Such costs are the responsibility of the customer.
Customs and import rules vary by country and region, so unfortunately we're not able to estimate these in advance. The best way to be sure if any such charges will be applied is to check with your local customs authority.
Shipments from within the U.S.A. are subject to sales tax where mandated by federal and local authorities. This will be calculated at checkout.
Shipments within Japan are subject to consumption tax, which is included in the price.
---
Shipping Updates - May 2023
Due to the pandemic and the current situation in Eastern Europe, postal services to some countries have been temporarily suspended by Japan Post, however FedEx services are still available. If you are in one of the countries named below you can either choose FedEx Priority, or you can choose to have us hold on to your order until postal restrictions are lifted.
Countries where only FedEx is available
South America: All countries
Europe: Albania, Andorra, Cyprus, Georgia, Kosovo, Monaco, Montenegro, North Macedonia, Serbia, Slovakia
(Unfortunately, there are no shipping options currently available for customers in Ukraine, Russia, or Belarus.)
Asia: Afghanistan, Bangladesh, Bahrain, Bhutan, Brunei, Cambodia, India, Iran, Iraq, Jordan, Kuwait, Laos, Maldives, Mongolia, Nepal, Oman, Pakistan, Saudi Arabia, Syria, Timor-Leste, UAE
Africa: All countries
Oceania: All countries except Australia & New Zealand
---
Within Japan
If you're in Japan, all shipping is free! You will receive your shipment within 1-2 days on the island of Honshu (the main island, including Tokyo, Osaka and Kyoto), or 2-3 days for the rest of Japan. It may take an additional day if you order on a weekend or if you are located in Okinawa or the outlying islands.
If you're staying in a hotel in Japan, please include the reservation name and room number, otherwise your hotel may refuse to accept your package.
Tracking your Shipment
As soon as your order has shipped we will send you a confirmation email with a link to your order status. You will be able to track your shipment from there. It is the customer's responsibility to track shipments, and we will not be able to refund the shipping fees charged by the courier in case a shipment is returned due to non-collection.
If you would like to return or exchange your order for whatever reason, we're here to help! We offer no hassle returns or exchanges within 30 days of receiving your order. You can return your product for a different product, or a refund to the original payment method.
*Please note the following conditions to our return and exchange policy:
Items must be returned unused and folded in the original packaging

Discounted items or items purchased with store credit are not eligible for refund

Shipping costs are not refundable. Shipping costs refers to the full amount paid to Japan Post or FedEx.

You must provide proof of postage showing the postage date within the 30 days

For hygiene reasons, we cannot accept returns on earrings, futon mattresses, or mattress covers

Items marked Direct from Designer, have a refund period of 7 days instead of 30.
How do I claim my free refund?
Please contact us and we will confirm the shipping address for you to send the item.
Please return the item folded in its original plastic bag (don't worry about the paper wrapping) and send to the address that we provide, noting on the customs form 'Returned Item'. Please note that you must bear the shipping costs.
Once we receive the returned item and have confirmed its condition as unused and undamaged, we will issue a refund not including shipping costs or duties.
Do I have to pay shipping costs?
We offer a full refund of the product, not including the original shipping costs. You must bear the cost of return shipping.
If you received the original order damaged, then we will also cover both the initial and the return shipping costs.
Can I exchange for a different product?
Yes! To exchange an unused and undamaged item, you can process the return as described above and reorder the new item through the website.
Alternatively, when you notify us about a return, let us know which product you would like as a replacement, and we will hold it in stock for you until we receive the original return. Please note, there may be additional shipping costs.
What if my item is damaged?
Very occasionally items may be damaged in transport. In the unlikely event that you item arrives in a damaged condition:
We ask that you contact us within 48 hours of receipt. This enables us to make a claim with the shipping company.
Please keep hold of the damaged item and provide some photos of the damage.
We will issue you with a full refund or replacement, including shipping costs.
Who decides if I receive a refund or a replacement?
You do!
If you are entitled to a refund or replacement as described above, it is your choice which you receive.
If we no longer have the same item in stock, we will suggest one or more similar items. If you do not want the similar item, we will provide a refund instead.
How long will my refund take?
We will process the refund within 2 days of receiving the returned item.
Lovely bag!
Really beautiful kimono handbag. A bit expensive but considering its handpainted and a great design, I couldn't be happier! Shipping was free and surprisingly fast!