Why We Love It
The design of the Koge Silk Brocade Leather Women's Wallet is based on the Koge Bachiru no Shaku, a ruler made of carved ivory and colored a deep crimson using a special technique originating in Tang Dynasty China. The original ruler is housed in a heritage repository at the Todaiji temple in Nara.
The sumptuous silk exterior of this wallet is called nishiki, which employs as many as ten weft threads of contrasting colors to showcase the intricately carved birds, beasts, and flower patterns. The silk is woven exclusively in Kyoto, the premier center of silk production in Japan, and is renowned for its particularly luxurious feel.
This handcrafted practical women's wallet is lined with high-quality leather. The coin pocket is protected by a gold ball-clasp and frame. It is large and secure enough to hold keys and jewelry, and is accessible without opening the billfold pocket. In addition, 4 safely fastened card slots help to keep your belongings organized while retaining a slim profile.
Founded in 1894, the award-winning Tatsumura Textile is Kyoto's esteemed leader in world-class silk brocades. Their enduring efforts in preserving and revitalizing ancient Japanese textiles have made them one of the most respected companies in the field, with commissions from the Japanese Imperial Household and Christian Dior.
Details
Leather wallet with nishiki silk brocade exterior.
Made in Japan.
100% silk exterior; leather lining.
Billfold pocket, separate coin pocket with metal clasp, 4 card slots.
Shipped in Tatsumura Textile gift box.
Size: 4¼" x 4" (11cm x 10cm).
Product code: 41920ST
Free shipping worldwide!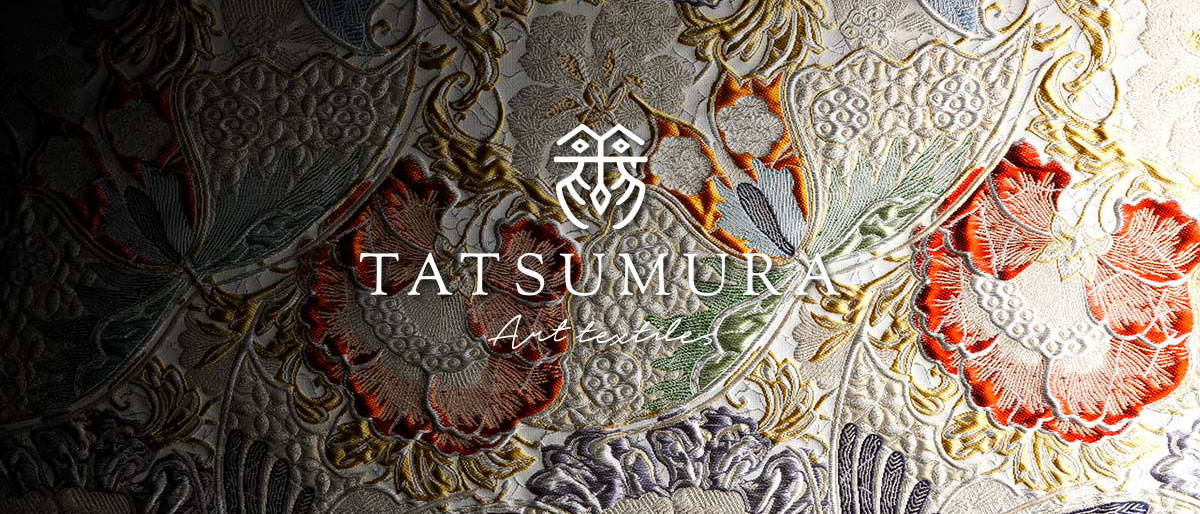 For more than 125 years, award-winning Kyoto-based Tatsumura Textile has been tasked with the restoration of priceless ancient Japanese and Chinese textiles as well as commissions from the Japanese Imperial Household.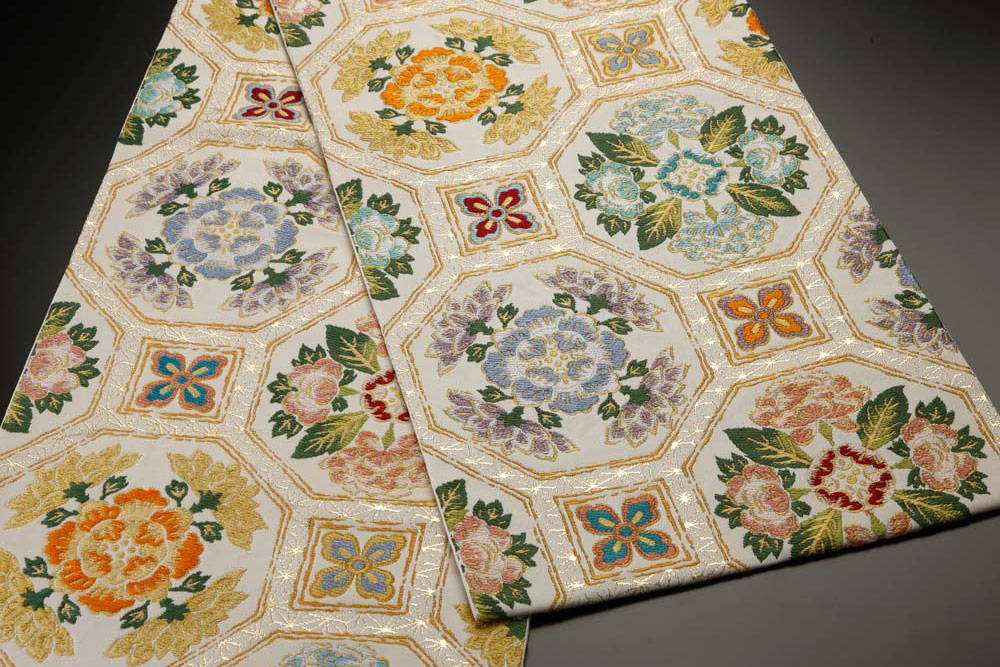 Driving the success of Tatsumura Textile is its mastery of Nishiki weaving. Nishiki, the art of woven light, is the pinnacle of silk weaving, originating in the old capital of Kyoto, and is far more complex than European brocades. It is a three-dimensional art form consisting of multiple woven layers, each with beautiful gradients of spectacular color, and gold and silver accents that vary in intensity depending on the angle and light.
The founder of the distinguished Tatsumura Weaving Factory (present-day Tatsumura Textile) was Heizo Tatsumura, an advocate of "weaving art". While he found early success in commercial weaving, his works were quickly infringed upon by competitors. Tatsumura, however, turned what was sure to be a disaster into an opportunity.
In the first decades of the 20th century, he dedicated himself to collecting and studying fragments of textile designs and patterns that had come to Japan via the Silk Road over 1300 years ago. These included motifs from as far away as Sassanid Persia and Tang dynasty China. With this invaluable heritage, he created one-of-a kind textiles for kimono and obi and items for tea ceremony that were unrivalled in the industry.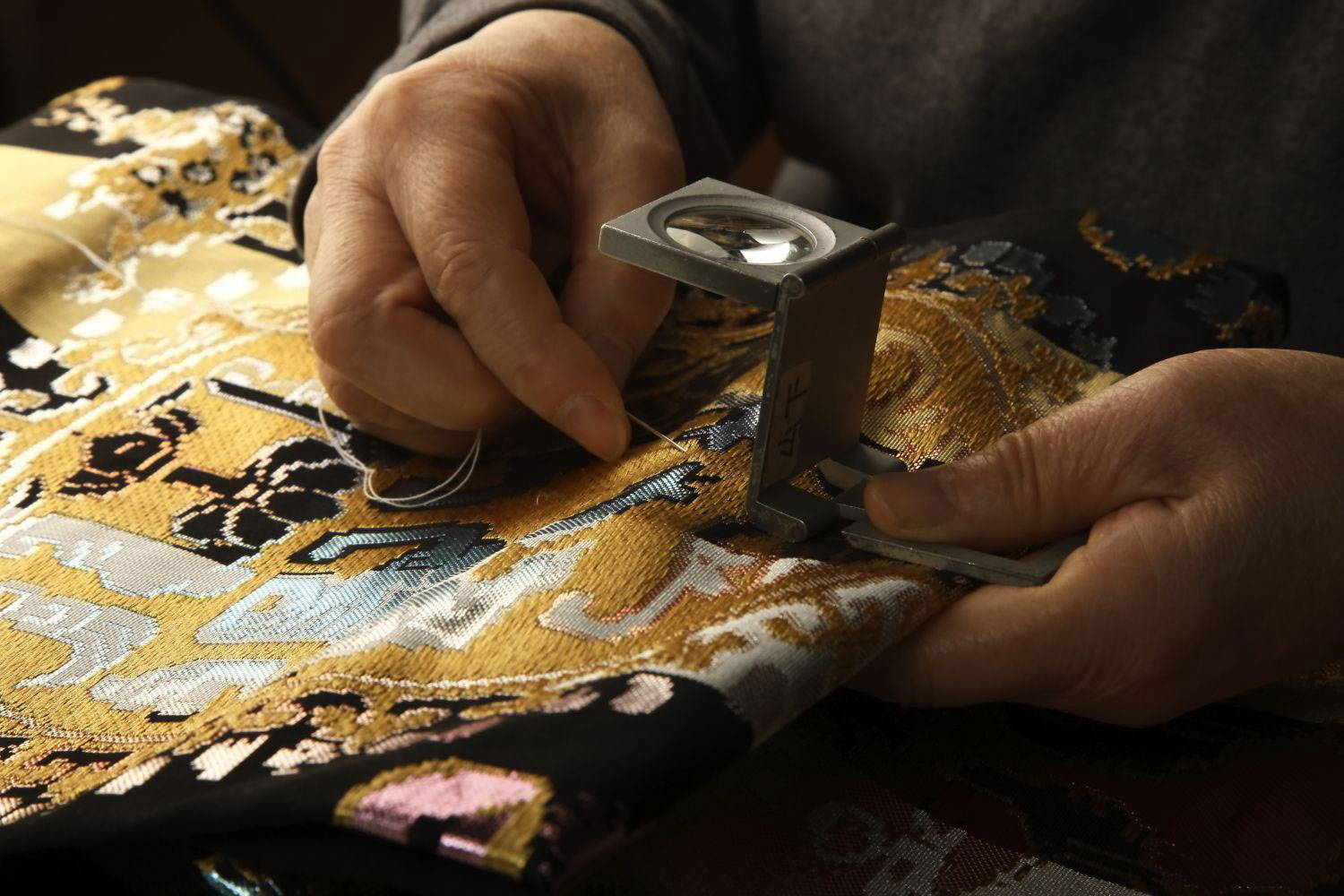 Tatsumura Textile' silk brocades continue today to draw inspiration from their restoration work on tapestries from a number of notable historic buildings in Japan, including the Shosoin Repository (the treasure house of Todaiji Temple in Nara), as well as Horyuji Temple, the world's largest wooden building.
Heizo Tatsumura's pioneering expertise and peerless originality have been handed down over three generations, allowing Tatsumura Textile to not only tap into the nation's long history of intricate craftsmanship, but also address everyday problems with innovative and artistic solutions.
We ship to every country in the world direct from Tokyo.
Customers in the U.S.A. can now also enjoy even faster delivery with domestic shipping on selected items. Shipping is free on any order over USD $149. Free Shipping is either by USPS Express (3-5 days) or Japan Post EMS if shipping from Tokyo (6-10 days). Your items may be sent separately to make sure they arrive as quickly as possible.
Customers in Canada, the UK, France, Germany and Australia, can enjoy Free Express Shipping on any order over USD by Japan Post EMS usually takes between 6-10 days.
Customers in Japan can enjoy Free Shipping on any order, which will usually arrive within 1-2 days.
Customers in the rest of the world can enjoy Free Shipping on any order over USD $99 by registered airmail, which usually takes around 10-14 days. Please note that due to pandemic related restrictions, postal services are currently suspended to some countries. Please see the shipping update below for a full list of countries affected.
Other shipping options and costs vary by destination and include:
1) Standard shipping by registered airmail, which usually takes about 10-14 days.
2) Express shipping with Japan Post's EMS service, which usually takes between 6-10 days.
3) FedEx Priority usually takes 2-5 days. We offer a subsidised flat rate to keep prices low.
4) USPS Express for domestic shipments within the U.S.A., which takes 3-5 days
5) DHL for the fastest U.S. domestic shipments, which takes 1-3 days.
All options include tracking information.
Taxes & Customs
Shipments from Japan to your country may be subject to additional taxes and handling fees imposed by the customs authorities and mail carrier of your country and region. Such costs are the responsibility of the customer.
Customs and import rules vary by country and region, so unfortunately we're not able to estimate these in advance. The best way to be sure if any such charges will be applied is to check with your local customs authority.
Shipments from within the U.S.A. are subject to sales tax where mandated by federal and local authorities. This will be calculated at checkout.
Shipments within Japan are subject to consumption tax, which is included in the price.
---
Shipping Updates - May 2023
Due to the pandemic and the current situation in Eastern Europe, postal services to some countries have been temporarily suspended by Japan Post, however FedEx services are still available. If you are in one of the countries named below you can either choose FedEx Priority, or you can choose to have us hold on to your order until postal restrictions are lifted.
Countries where only FedEx is available
South America: All countries
Europe: Albania, Andorra, Cyprus, Georgia, Kosovo, Monaco, Montenegro, North Macedonia, Serbia, Slovakia
(Unfortunately, there are no shipping options currently available for customers in Ukraine, Russia, or Belarus.)
Asia: Afghanistan, Bangladesh, Bahrain, Bhutan, Brunei, Cambodia, India, Iran, Iraq, Jordan, Kuwait, Laos, Maldives, Mongolia, Nepal, Oman, Pakistan, Saudi Arabia, Syria, Timor-Leste, UAE
Africa: All countries
Oceania: All countries except Australia & New Zealand
---
Within Japan
If you're in Japan, all shipping is free! You will receive your shipment within 1-2 days on the island of Honshu (the main island, including Tokyo, Osaka and Kyoto), or 2-3 days for the rest of Japan. It may take an additional day if you order on a weekend or if you are located in Okinawa or the outlying islands.
If you're staying in a hotel in Japan, please include the reservation name and room number, otherwise your hotel may refuse to accept your package.
Tracking your Shipment
As soon as your order has shipped we will send you a confirmation email with a link to your order status. You will be able to track your shipment from there. It is the customer's responsibility to track shipments, and we will not be able to refund the shipping fees charged by the courier in case a shipment is returned due to non-collection.
If you would like to return or exchange your order for whatever reason, we're here to help! We offer no hassle returns or exchanges within 30 days of receiving your order. You can return your product for a different product, or a refund to the original payment method.
*Please note the following conditions to our return and exchange policy:
Items must be returned unused and folded in the original packaging

Discounted items or items purchased with store credit are not eligible for refund

Shipping costs are not refundable. Shipping costs refers to the full amount paid to Japan Post or FedEx.

You must provide proof of postage showing the postage date within the 30 days

For hygiene reasons, we cannot accept returns on earrings, futon mattresses, or mattress covers

Items marked Direct from Designer, have a refund period of 7 days instead of 30.
How do I claim my free refund?
Please contact us and we will confirm the shipping address for you to send the item.
Please return the item folded in its original plastic bag (don't worry about the paper wrapping) and send to the address that we provide, noting on the customs form 'Returned Item'. Please note that you must bear the shipping costs.
Once we receive the returned item and have confirmed its condition as unused and undamaged, we will issue a refund not including shipping costs or duties.
Do I have to pay shipping costs?
We offer a full refund of the product, not including the original shipping costs. You must bear the cost of return shipping.
If you received the original order damaged, then we will also cover both the initial and the return shipping costs.
Can I exchange for a different product?
Yes! To exchange an unused and undamaged item, you can process the return as described above and reorder the new item through the website.
Alternatively, when you notify us about a return, let us know which product you would like as a replacement, and we will hold it in stock for you until we receive the original return. Please note, there may be additional shipping costs.
What if my item is damaged?
Very occasionally items may be damaged in transport. In the unlikely event that you item arrives in a damaged condition:
We ask that you contact us within 48 hours of receipt. This enables us to make a claim with the shipping company.
Please keep hold of the damaged item and provide some photos of the damage.
We will issue you with a full refund or replacement, including shipping costs.
Who decides if I receive a refund or a replacement?
You do!
If you are entitled to a refund or replacement as described above, it is your choice which you receive.
If we no longer have the same item in stock, we will suggest one or more similar items. If you do not want the similar item, we will provide a refund instead.
How long will my refund take?
We will process the refund within 2 days of receiving the returned item.