Why We Love It
Pale pink cherry blossoms may be the undisputed symbol of spring in Japan, but it's the iris, as featured in Utagawa Hiroshige's iconic Horikiri Iris, that is a symbol of the noble samurai. The thin leaves resemble the curve and sharpness of a samurai sword, while the Japanese characters for iris, when read with alterable readings, is pronounced shobu, the same word as victory in Japanese.
What to Do with Your Tenugui
Tenugui is an absorbent, fast-drying multipurpose 100% cotton cloth, which makes it an artisanal and eco-friendly design that you can use it everyday.
These thoughtful and lightweight fabrics are stenciled by hand, and feature classic Japanese woodblock print masterpieces that are ideal for framing, or hanging on a wall with our Japanese Cypress Tenugui Tapestry Hanger!
There are no limits to the ways you can incorporate tenugui into your daily routine. They take up little space when folded, so take a few on your next vacation, or use them on a hot summer day as hand towels, wash cloths, and to wipe away sweat. Keep them in your kitchen as a table runner or tea towel, or even for drying dishes. Fashionistas will enjoy using tenugui to accent an outfit as a headscarf or a scarf. Tenugui are also a unique and sustainable way to protect book covers and to wrap gifts.
With a history of over 1,000 years, tenugui have kept their place in Japanese culture because of their simplicity and usefulness. However you choose to use it, your tenugui will be a tasteful and green addition to your everyday life.
Details
100% Cotton Japanese tenugui
Handmade in Japan
Size 36" x 15" (92 x 37cm)
Product code: 35491WH
Tenugui only, does not include tapestry hanger.
Machine-washable, but do not mix with other colors. Do not tumble-dry.
Please note, the ends of tenugui are traditionally left unhemmed. They will stop fraying after a few washes. If you wish to remove any loose threads, cut them off with scissors.
Founded in 1874, Rienzome strives to deliver handmade warmth through its hand-stenciled tenugui, multi-purpose cotton cloths, featuring Japanese woodblock print masterpieces by iconic artists such as Hokusai, Kitagawa Utamaro and Utagawa Hiroshige.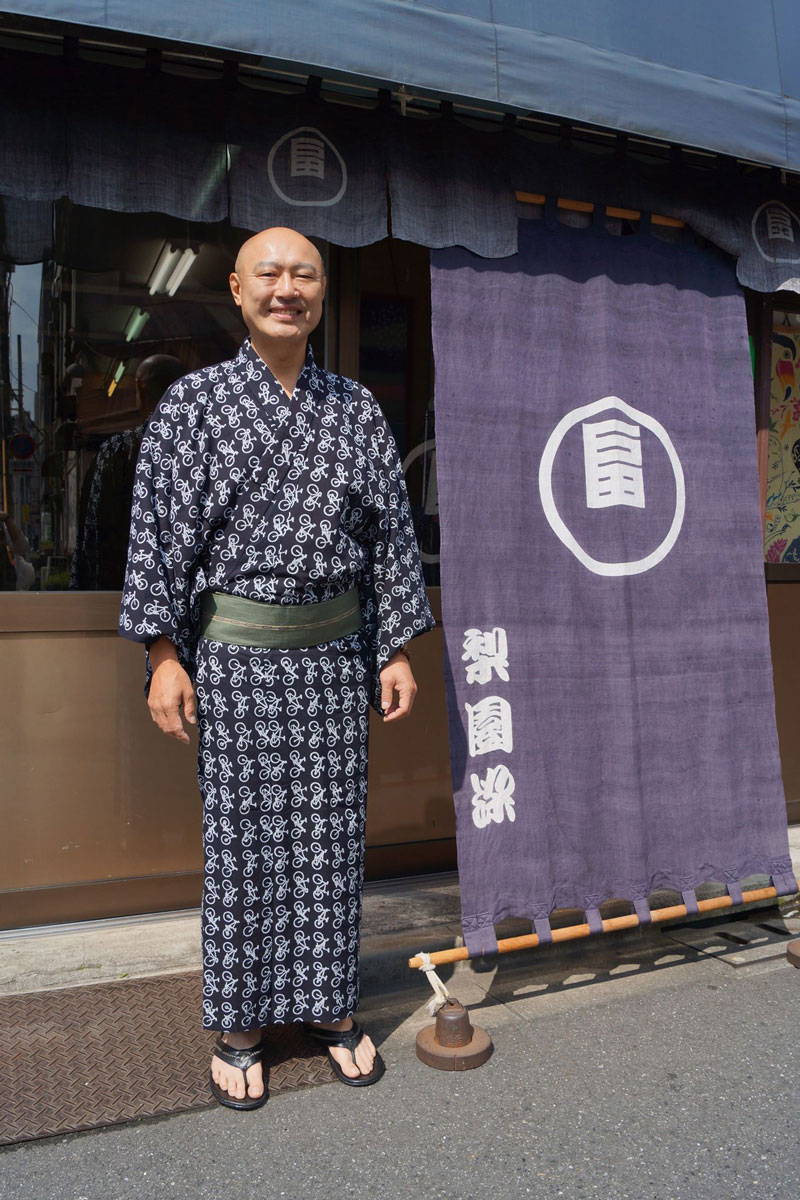 The storied house Rienzome began in Nihonbashi, the commercial center of 17th century Tokyo (then called Edo). For more than 140 years, Rienzome has been renowned across Japan for their kimono, yukata, and tenugui, which are all created using premium quality fabrics and timeless designs.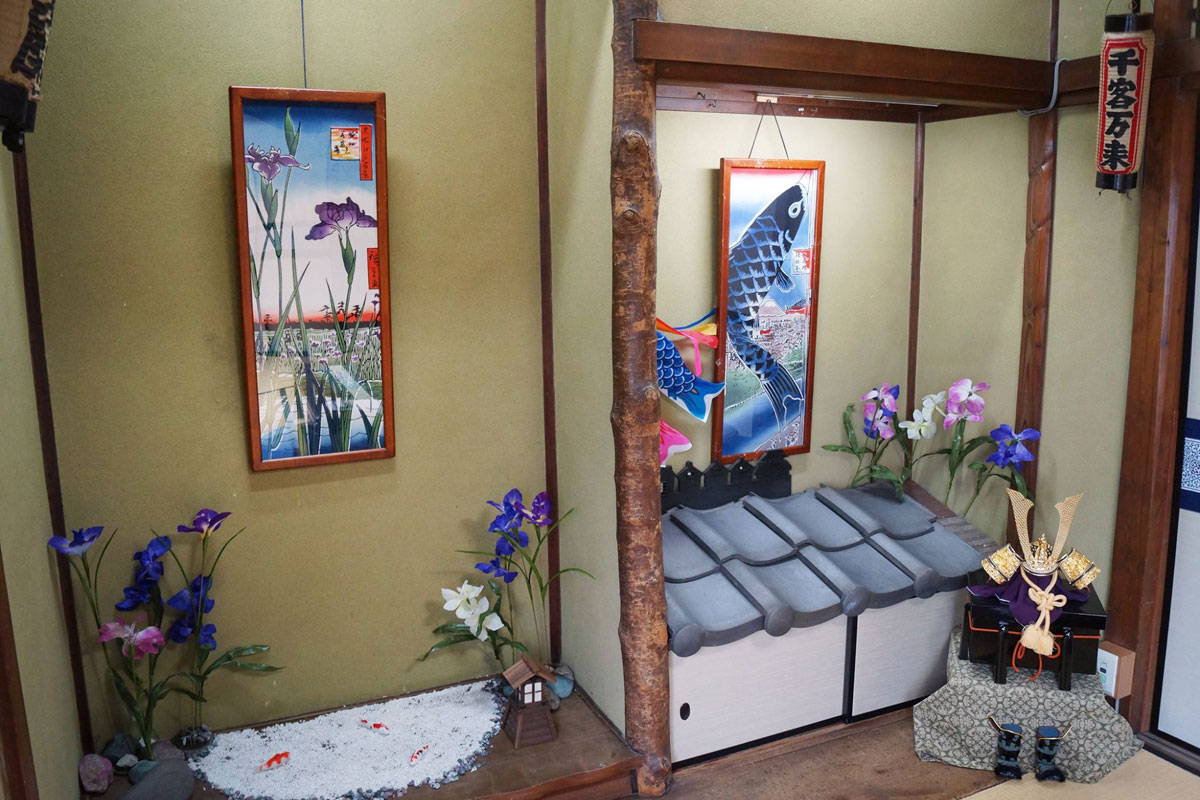 Rienzome's tenugui, in particular, are made from kimono fabric, making them slightly wider than traditional tenugui. Their tenugui are made using the chusen dyeing technique, where a stenciled patterned appears on both the front and reverse sides of a cloth.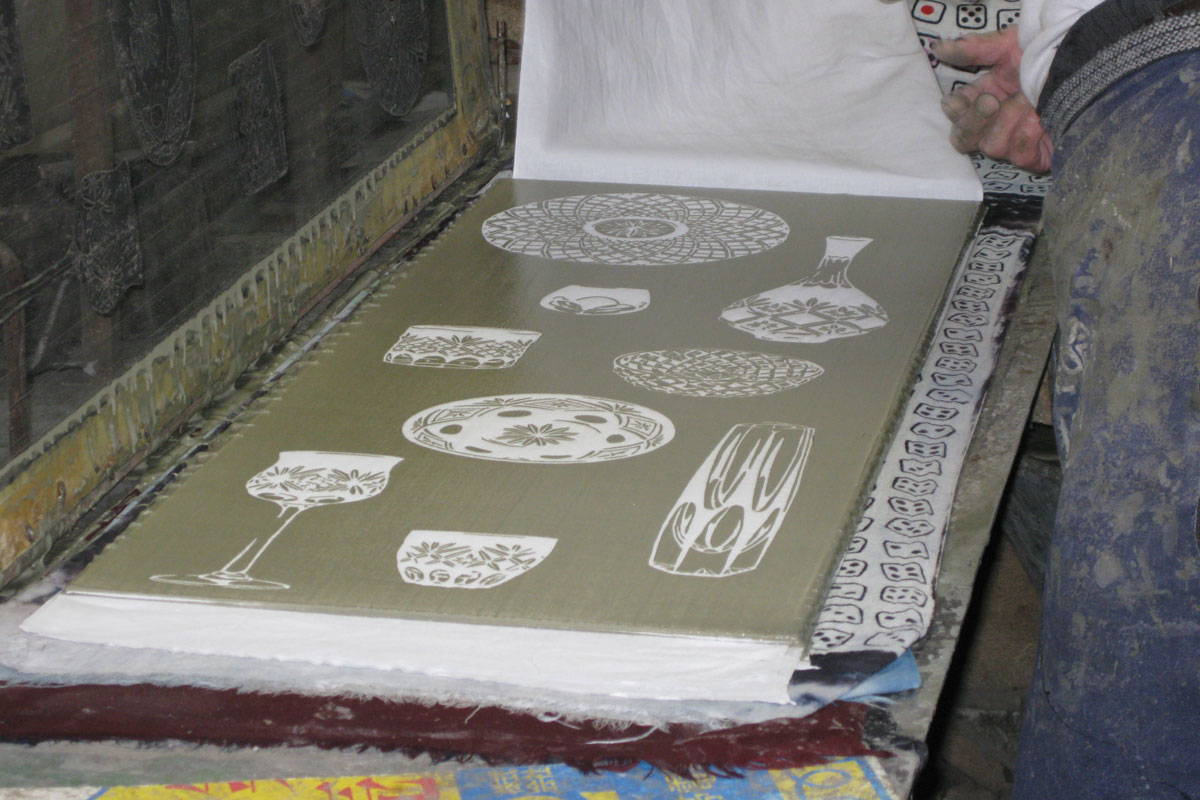 One characteristic of chusen dyeing is the irregularity of color and pattern, giving each tenugui a personalized charm that is enhanced with usage and age. With continued use, the texture of tenugui also changes.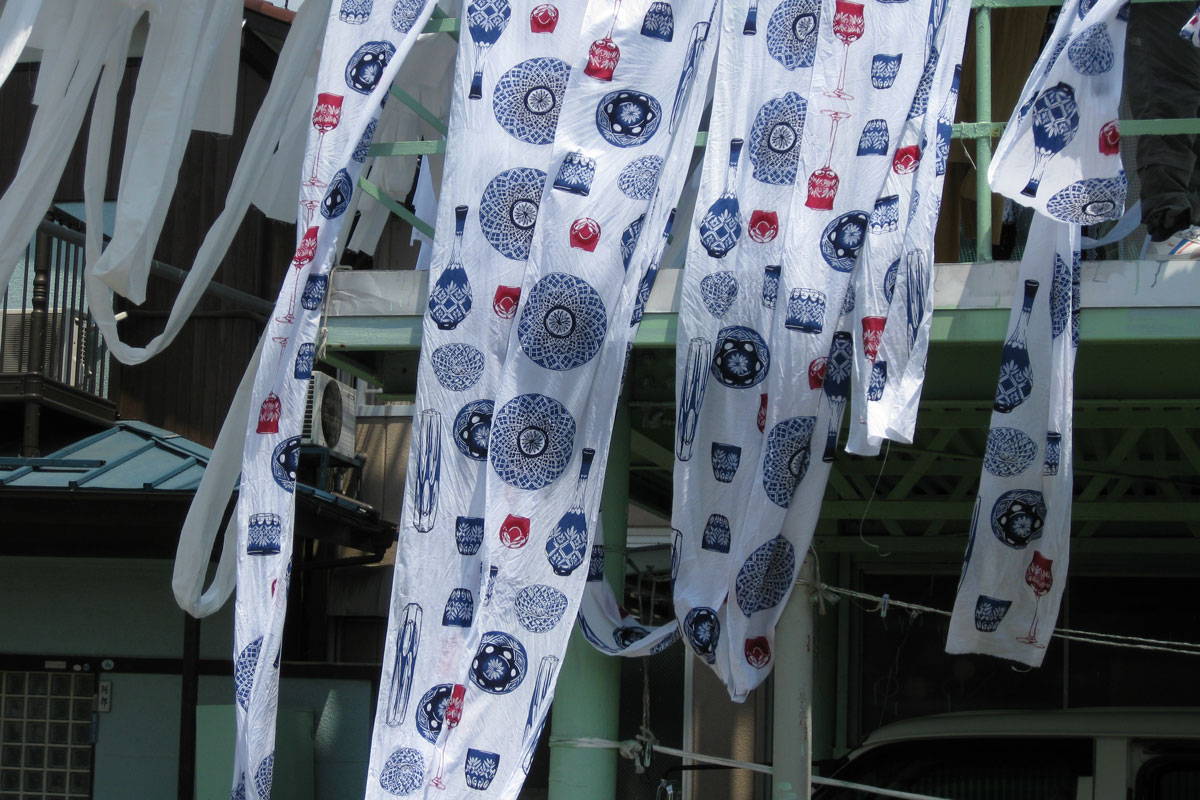 In addition, chusen dyeing results in longer-lasting color because the dye permeates the fabric, making tenugui a suitable choice as a priceless artwork, or even eco-friendly everyday use as a dishtowel, washcloth or a hand towel.
We ship to every country in the world direct from Tokyo.
We offer three levels of service: Standard, Express and FedEx Priority.
1) Standard shipping is by registered airmail, which usually takes about 10-14 days.
2) Express shipping uses Japan Post's EMS service, and usually takes between 6-10 days.
3) FedEx Priority usually takes 2-5 days.
All options include tracking information.
FREE shipping uses Standard shipping is available on orders over $99, unless registered airmail services to your country have been suspended by Japan Post. In the USA, Canada, UK, France, Germany and Australia registered airmail is temporarily suspended but you can still take advantage of Free Shipping on all orders over $149 with Express Shipping, which can be as quick as 6 days!
Taxes & Customs
All our products are sent to you direct from Tokyo, Japan. Shipments from Japan to your country may be subject to additional taxes and handling fees imposed by the customs authorities and mail carrier of your country and region. Such costs are the responsibility of the customer.
Customs and import rules vary by country and region, so unfortunately we're not able to estimate these in advance. The best way to be sure if any such charges will be applied is to check with your local customs authority.
For customers in Japan, the price includes 10% consumption tax. This tax is removed for customers outside of Japan.
---
Shipping Updates - March 2023
Due to the pandemic and the current situation in Eastern Europe, postal services to some countries have been temporarily suspended by Japan Post, however FedEx services are still available. If you are in one of the countries named below you can either choose FedEx Priority, or you can choose to have us hold on to your order until postal restrictions are lifted.
Countries with postal restrictions (Currently only FedEx available)
South America: All countries
Europe: Albania, Andorra, Belarus, Cyprus, Georgia, Kosovo, Monaco, Montenegro, North Macedonia, Serbia, Slovakia
Asia: Afghanistan, Bangladesh, Bahrain, Bhutan, Brunei, Cambodia, India, Iran, Iraq, Jordan, Kuwait, Laos, Maldives, Mongolia, Nepal, Oman, Pakistan, Saudi Arabia, Syria, Timor-Leste, UAE
Africa: All countries
Oceania: All countries except Australia & New Zealand
---
Within Japan
If you're in Japan you will receive your shipment within 1-2 days on the island of Honshu (the main island, including Tokyo, Osaka and Kyoto), or 2-3 days for the rest of Japan. It may take an additional day if you order on a weekend or if you are located in Okinawa or the outlying islands.
If you're staying in a hotel in Japan, please include the reservation name and room number, otherwise your hotel may refuse to accept your package.
Free Shipping
All orders over US$99 or equivalent (not including shipping fees) are eligible for free shipping, except in countries where registered airmail services have been temporarily suspended by Japan Post. In the USA, Canada, UK, France, Germany and Australia, where these services are currently suspended, you can still take advantage of Free Shipping on all orders over $149 with Express Shipping!
Tracking your Shipment
As soon as your order has shipped we will send you a confirmation email with a link to your order status. You will be able to track your shipment from there. It is the customer's responsibility to track shipments, and we will not be able to refund the shipping fees charged by the courier in case a shipment is returned due to non-collection.
If you would like to return or exchange your order for whatever reason, we're here to help! We offer no hassle returns or exchanges within 30 days of receiving your order. You can return your product for a different product, or a refund to the original payment method.
*Please note the following conditions to our return and exchange policy:
Items must be returned unused and folded in the original packaging

Discounted items or items purchased with store credit are not eligible for refund

Shipping costs are not refundable. Shipping costs refers to the full amount paid to Japan Post or FedEx.

You must provide proof of postage showing the postage date within the 30 days

For hygiene reasons, we cannot accept returns on earrings, futon mattresses, or mattress covers

Items marked Direct from Designer, have a refund period of 7 days instead of 30.
How do I claim my free refund?
Please contact us and we will confirm the shipping address for you to send the item.
Please return the item folded in its original plastic bag (don't worry about the paper wrapping) and send to the address that we provide, noting on the customs form 'Returned Item'. Please note that you must bear the shipping costs.
Once we receive the returned item and have confirmed its condition as unused and undamaged, we will issue a refund not including shipping costs or duties.
Do I have to pay shipping costs?
We offer a full refund of the product, not including the original shipping costs. You must bear the cost of return shipping.
If you received the original order damaged, then we will also cover both the initial and the return shipping costs.
Can I exchange for a different product?
Yes! To exchange an unused and undamaged item, you can process the return as described above and reorder the new item through the website.
Alternatively, when you notify us about a return, let us know which product you would like as a replacement, and we will hold it in stock for you until we receive the original return. Please note, there may be additional shipping costs.
What if my item is damaged?
Very occasionally items may be damaged in transport. In the unlikely event that you item arrives in a damaged condition:
We ask that you contact us within 48 hours of receipt. This enables us to make a claim with the shipping company.
Please keep hold of the damaged item and provide some photos of the damage.
We will issue you with a full refund or replacement, including shipping costs.
Who decides if I receive a refund or a replacement?
You do!
If you are entitled to a refund or replacement as described above, it is your choice which you receive.
If we no longer have the same item in stock, we will suggest one or more similar items. If you do not want the similar item, we will provide a refund instead.
How long will my refund take?
We will process the refund within 2 days of receiving the returned item.
What a great gift!!
I bought the Horikiri Iris Tenugui Towel to give as a thank you gift to a person at my job who was kind of enough to give me a nice Christmas gift. The moment I saw it on the Japan Objects website I know it would make the perfect gift. And I wasn't wrong, my coworker loved it! It was so beautifully made and the colors were so vibrant I wish I would have bought an extra one for myself.