How You Can Save the Kimono
There's no garment as fascinating, diverse, artistic, and iconically Japanese as the kimono. An integral part of the nation's cultural DNA, the kimono has stood the test of time, and helped shape the image of Japan we see today.
However, it more recent years it's becoming an endangered art form. Competing with contemporary international fashion brands, the kimono is struggling; but there are a few passionate campaigners doing all they can to keep the kimono alive. Let's take a look at the current climate of the Japanese kimono industry, and how you can help!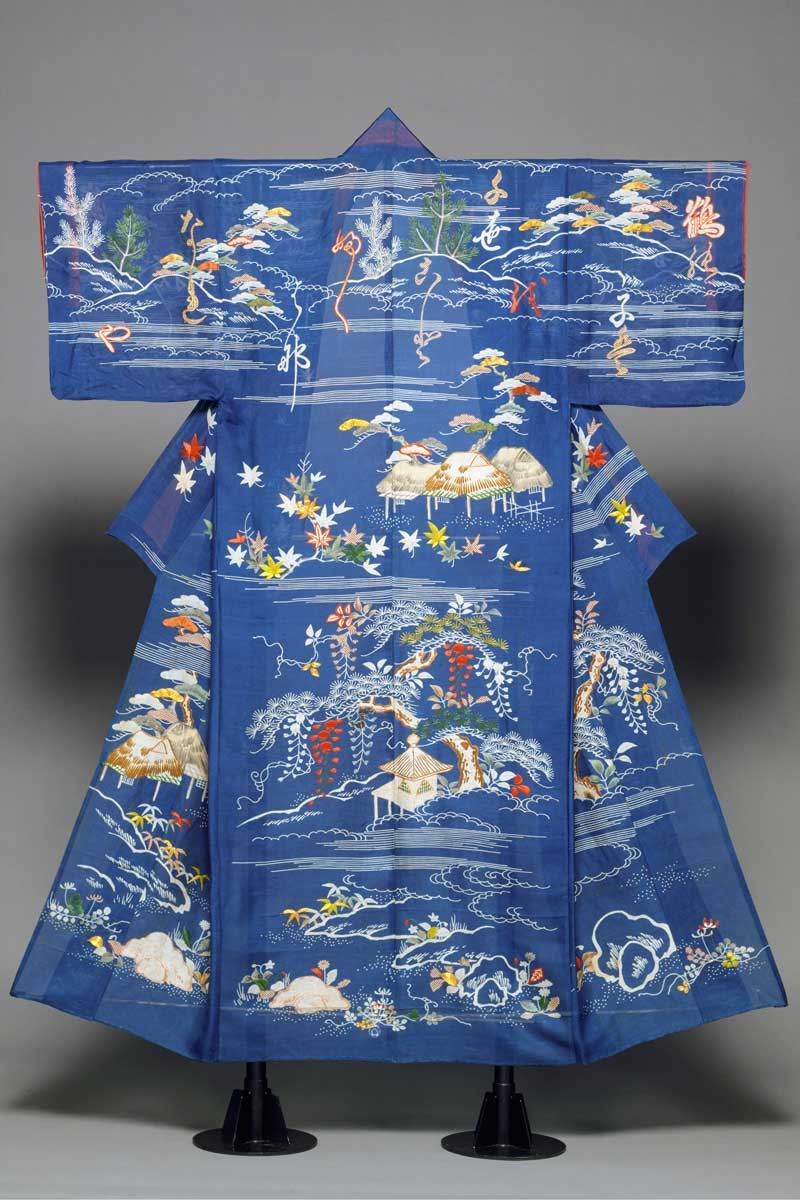 Unlined Summer Kimono (Hito-e) with Landscape and Poem, The Met Museum
A Super Brief History of the Kimono
There's plenty of information about the history of the kimono out there (check out our Yukata vs Kimono post for a run-down), so let's keep it short. The kimono was born over a thousand years ago, greatly influenced by the Chinese garment known as the hakama. By the 12th century, the kimono had become an everyday fashion staple, in its own uniquely Japanese style. The kimono reached its apex during the Edo Period (1603-1868), when it was practically considered a work of fine art. It was around this time the artisans really mastered and defined the craft.
The Shrinking Kimono Industry
Although the kimono may seem from the outside like a timeless icon of Japanese fashion, the reality is a little less rosey. In an article from British newspaper The Telegraph almost a decade ago, the downturn was already in full swing. The story claimed that "leading figures in the industry are warning that within a decade the art of traditional kimono making, a crown in Japan's cultural heritage, could die out altogether." Luckily this dire prediction hasn't come true yet, but there's still a lot of legwork to be done to ensure the artform continues for the next generation.
Why the downturn? It's not unique to Japan; as suits and jeans, skirts and T-shirts have become de facto uniforms across the world, traditional clothing styles everywhere are squeezed into smaller and smaller spaces. Kimono and yukata are still worn today of course, most commonly to celebrations and festivals, weddings, coming-of-age ceremonies and fireworks displays; but it is clear that kimono are not seen nearly as often as they used to be.
This leads to another problem: the price. Traditional kimono can be very expensive, often costing thousands of dollars. This can be a justifiable expense for something you will wear often, like a good suit. But who has that kind of money for something they'll only wear once or twice a year?
According to reports by Yano Research Institute, the contemporary kimono popularity peaked in 1975 when the market size was around ¥1.8 trillion. By 2016 this had shrunk to less than ¥300 billion, a drop of nearly 90%. Although the kimono has continued to be a beautiful work of cultural significance, its marketabiliy has been damaged by a combination of unfavorable factors; high price tags, inconvenience, lack of understanding and representation, and nervousness about Japanese cultural appropriation have all worked to create the kimono climate we see today.
As with other forms of traditional art, perhaps the best and most hopeful market for the nation's kimono artisans is the global market. Many Japanese cultural products, including ceramics, world block printing (ukiyo-e) and antique collecting, have proven to be valued commodities for international collectors. So why has the kimono struggled to be appreciated abroad?
Cultural Appropriation or Appreciation?
In a modern day when self-awareness of experimenting with, and interpreting symbols of other cultures is at an all-time high, it's fair for non-Japanese to feel apprehensive about taking a wholehearted approach to embracing the kimono. But for the designers, makers, collectors and others within the kimono community, having more people appreciate and enjoy wearing kimono can only be a positive thing.
Artist, model, and avid kimono collector Cherry Jerrera believes that the kimono is for everyone, an extension of an appreciation for Japanese culture. "When I go traveling," she emphasizes, "I don't do things in a perfectly traditional way, but I try them because I want to experience the culture. So for that matter, I think any way you want to experience the kimono is great. I think people shouldn't be uptight about traditionalism because then traditions will die."
Jerrera couldn't be more encouraging: "If you're interested in kimono, you should try it on, go ahead it could change your life." Designer Hiromi Asai echoes those sentiments. In an interview with Newsweek she says "it's easier just to show the kimono as a culture, but I want to show the kimono as fashion." It's an interesting and refreshing prism through which to look at the garment, and it's a perspective Asai has been showcasing through her previous New York Fashion Week shows. "We don't use Japanese music or Japanese motifs in the show. We display the kimono in a Western setting" she explains.
From Tradition to High Fashion
This more fashion-focused approach could be the key to resuscitating the garment. By teaming up with non-profit organization Kimono Artisan Kyoto, Asai presented to the world a stunning New York Fashion Week catwalk show back in 2016, one that demonstrated the malleability of the garment. Looking back closer to home, some of the nation's youth have been catching on to this more progressive style. According to Newsweek, the inner city's more style-savvy youth are finding "new ways to wear the garment, like backward or with sneakers, and more accessible options in lower-cost, laser-printed cotton versions."
Retail fashion outlets are also trying to incorporate the style in a more everyday way allowing hybrid incarnations - like the denim kimono – to emerge onto the mainstream fashion scene. While that's great for awareness, it may not help the long-serving kimono designers of Japan, which is why Asai is campaigning for the kimono to be viewed as a globally recognized, Japanese-form haute couture. According to Asai, by expanding and appealing to the high-end affluent buyers it will "show the brilliance of the kimono to the world using the handmade market...and then maybe the kimono lovers will increase all over the world. This is the first step."
As the market decreases, it's not 100% certain where this leaves the kimono, but one thing is for sure, there's been no better time to play and experiment with incorporating the kimono into everyday life. As the big name players in the industry, and the designers themselves, have given their blessings to do so, there's no reason that you can't!
There are countless ways to do it too; you're not restricted to the complex kimono. There's the breezy, summery, yukata which could easily be worn as an alternative to the bathrobe or the kimono-style robe that can be thrown over everyday clothes or worn to the pool or beach as an alternative to the kaftan; your options are endless!
---