Why We Love It
Setta are comfortable traditional Japanese sandals hand-woven from soft natural fibers, with cushioned protective soles. They make a great alternative to stiff wooden geta, and can be worn with any Japanese kimono, or perfect as flip-flop for your fashion wardrobe.
Sango Town in Nara Prefecture, is a craft hub with over a century of expertise in handcrafting traditional Japanese sandals. The innovative Design Setta Sango have taken this artisanal inheritance and created a style of Japanese sandal both chic and comfortable for everyday wear.
Unlike setta or geta you will find elsewhere, these original sandals have a thickly padded and rounded straps, made of 4 layers of soft cotton and natural hemp, which eliminates the painful rubbing by molding itself to the shape of your feet. The geometric design of the cotton straps are created exclusively by Tokyo-based artist Shimizu Dani Yasunobu , inspired by the craft heritage of the region.
The sole is hand-woven from water grass, so is soft, breathable and absorbent. Instead of the flat base of most Japanese sandals, these soles are woven in a gently curved shape. The ergonomically designed padded base cushions your feet and allows you to wear them in comfort all day long. The thick hardwearing outer sole means that these sandals are suitable for any surface, indoors or outdoors, wet or dry.
Details
Japanese Setta Sandals, handmade in Japan

Upper shoe: cotton/hemp, inner sole: watergrass, outer sole: EVA/TR

Size: available in Medium or Large (see size chart below)

Product codes:

2211GRM for Medium or 2211GRL for Large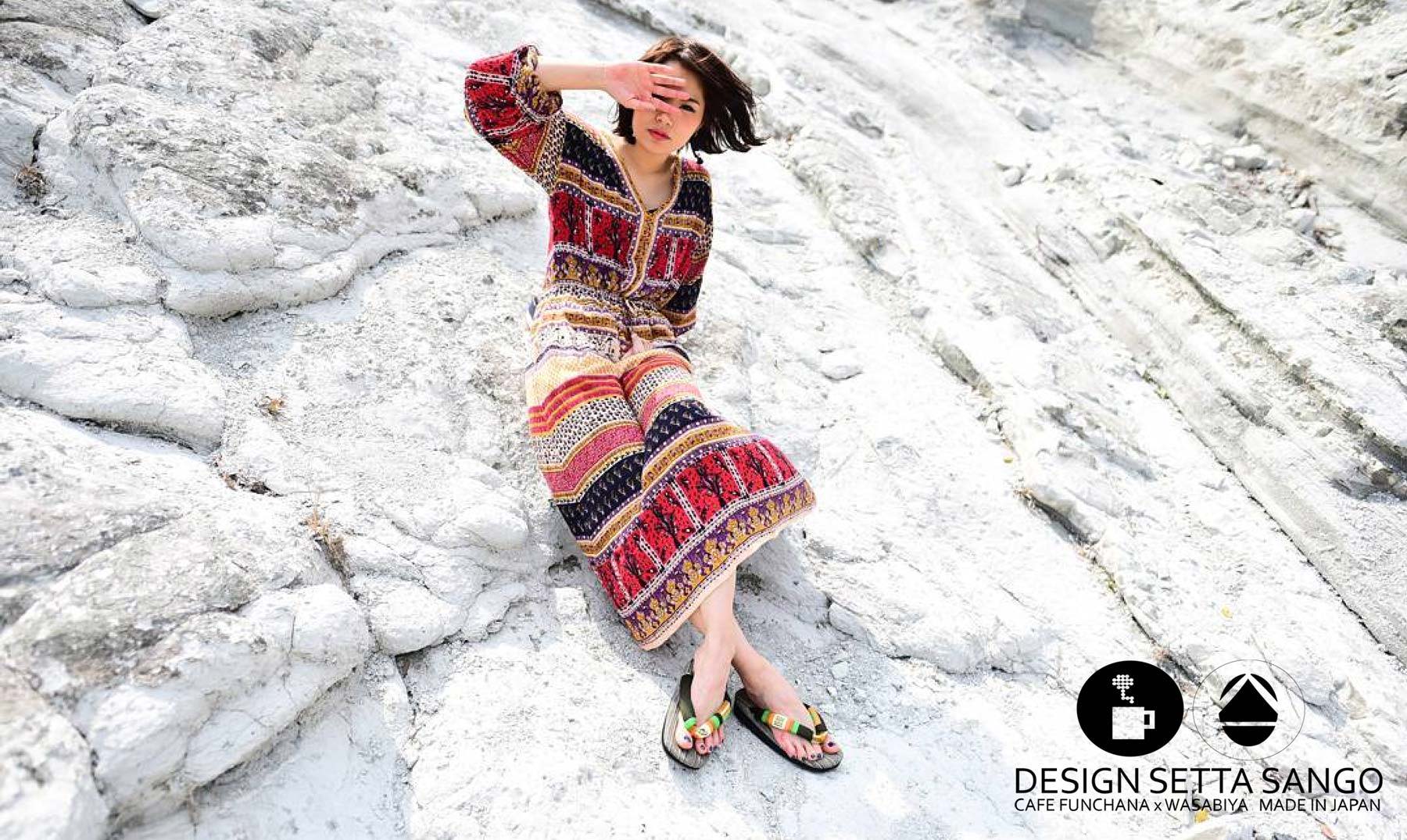 Design Setta Sango is an innovative force changing the way we wear traditional Japanese sandals, bring together artisanal comfort and joyful style!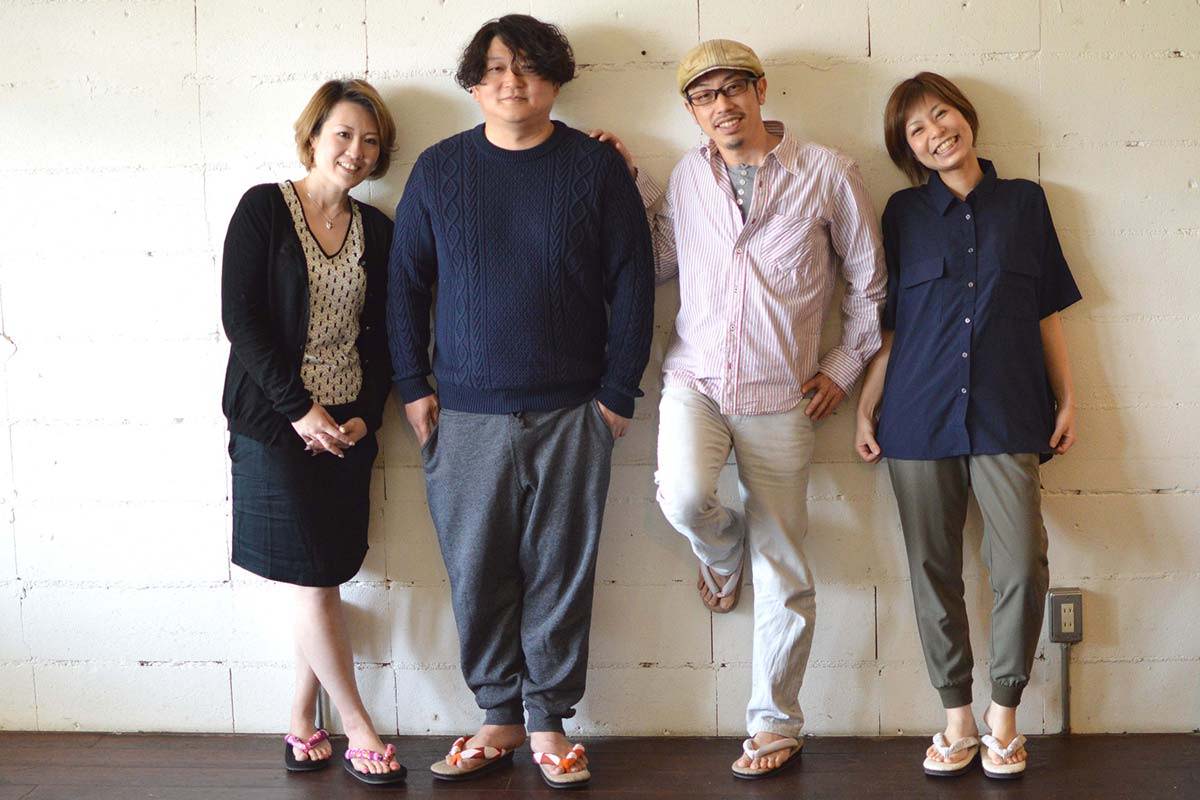 The brand's birthplace, Sango Town in Nara Prefecture, is a craft hub with over a century of expertise in making traditional Japanese wooden sandals. Drawing on this rich artisanal culture, and backed by the generations of craftsmanship of its partner, the geta strap maker Wasabiya, Design Setta Sango has created a limited collection of handcrafted contemporary Japanese sandals. The groundbreaking design was selected by the Wonder 500 project, showcasing 500 innovative wares from across Japan.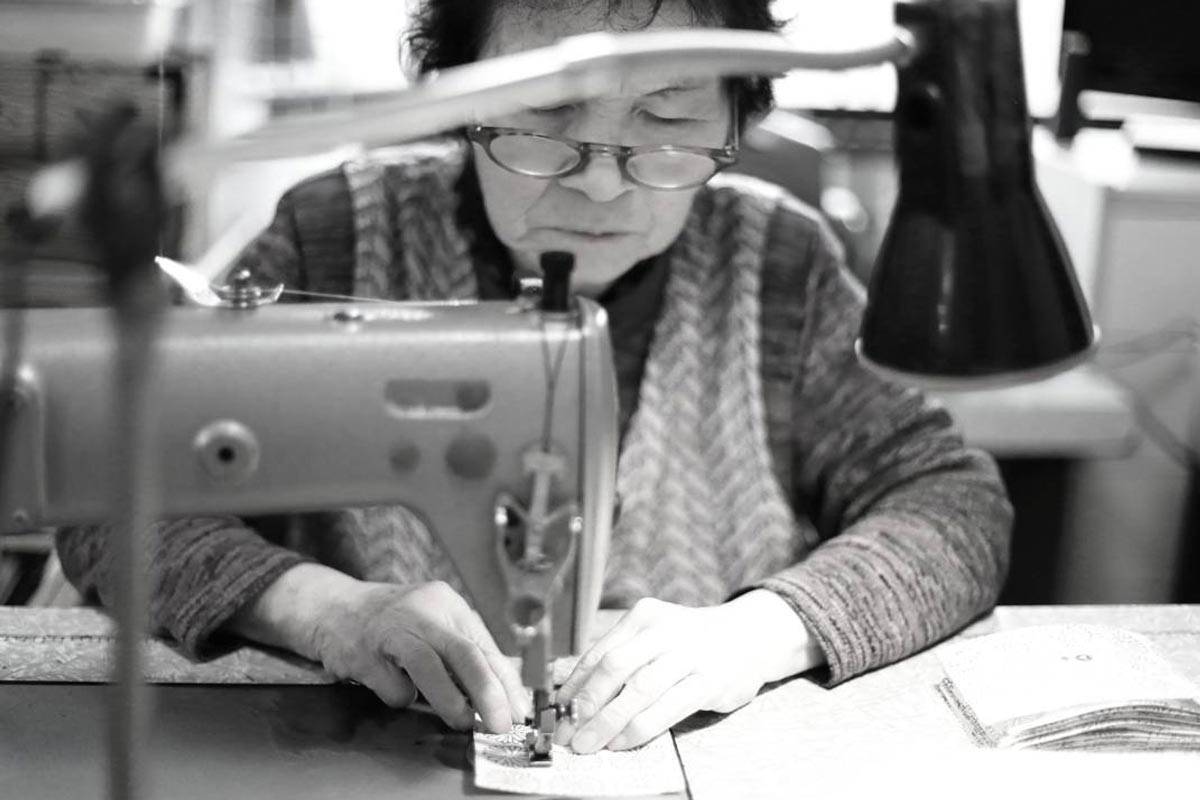 Making multi-layered cotton straps
Design Setta Sango is a passion project of the town's creative community, with the mission to make tradtional Japanese footwear more comfortable, fashionable, and adapted to modern life. Retaining the look of classic Japanese sandals, these shoes are nevertheless unique. Wide, soft, multi-layered cotton straps, and padded breathable insoles of natural fibres make this a sandal that you can wear in comfort all day long. The thick, sturdy, yet flexible soles allow you to wear them inside or out, whatever the weather.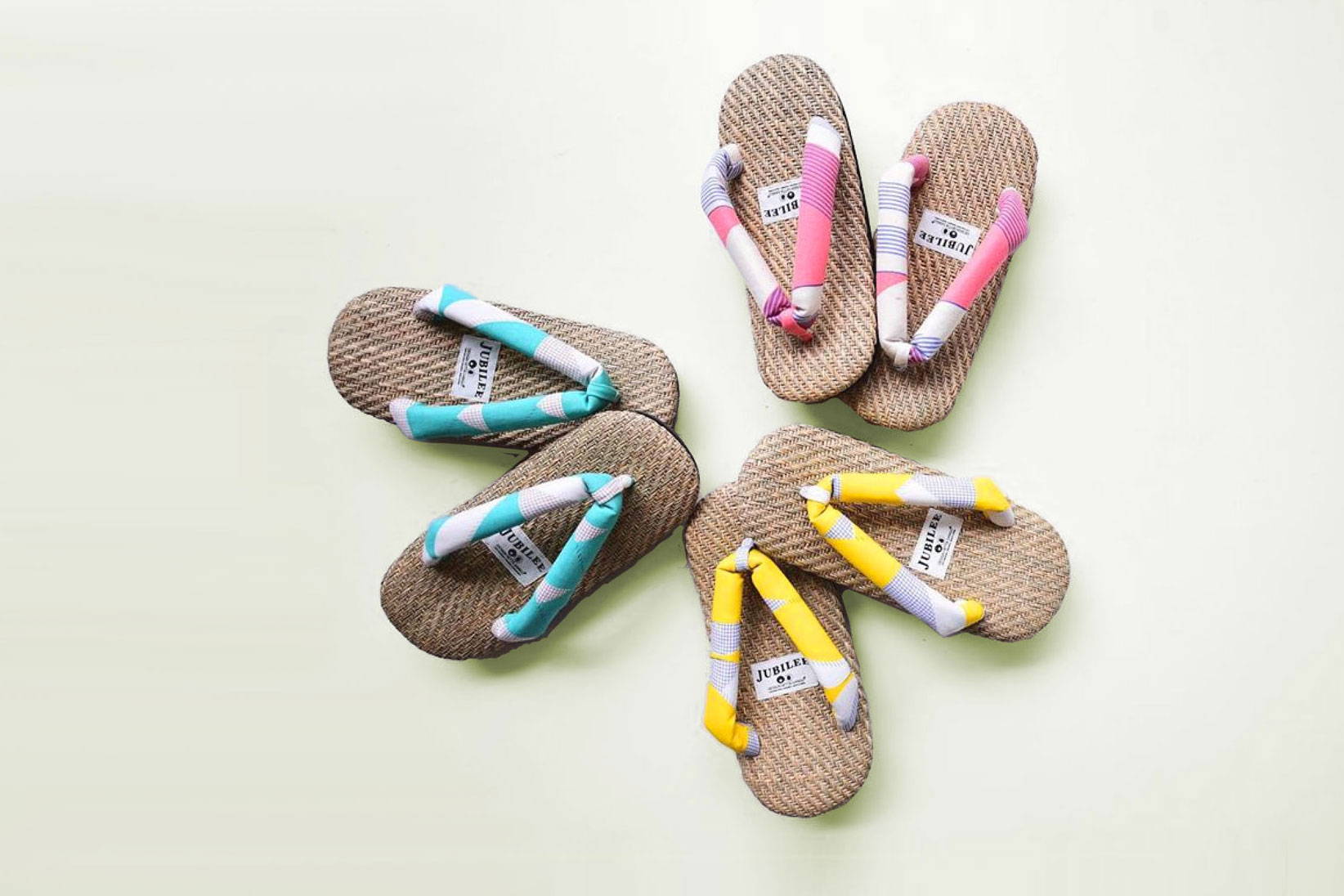 Grass Woven Setta Japanese Sandals
In addition to peerless comfort, these handmade sandals feature exclusive designs created by Japanese textile artists, as well as one-of-a-kind vintage kimono fabrics. Whether you're dressed in jeans or a kimono you'll find Design Setta Sango sandals the perfect accessory for contemporary living.
Setta, Zori & Geta are authentic Japanese sandals, which means they are traditionally narrower than western flip-flops, and fit more snugly to the width of your foot.
| | | | | |
| --- | --- | --- | --- | --- |
| Size |  U.S. | UK | EU | Japan |
| M | 4-6 | 2-4 | 35-37 | 21-23 |
| L | 7-8 | 5-6 | 38-39 | 24-25 |
| LL | 8½-10 | 8-9½  | 42.5-44 | 26-27.5 |
We ship to every country in the world direct from Tokyo.
We offer three levels of service: Standard, Express and FedEx Priority.
1) Standard shipping is by registered airmail, which usually takes about 10-14 days.
2) Express shipping uses Japan Post's EMS service, and usually takes between 6-10 days.
3) FedEx Priority usually takes 2-5 days.
All options include tracking information.
FREE shipping uses Standard shipping is available on orders over $99, unless registered airmail services to your country have been suspended by Japan Post. In the USA registered airmail is temporarily suspended but you can still take advantage of Free Shipping on all orders over $149 with Express Shipping, which can be as quick as 6 days!
Due to the COVID-19 situation, Standard and Express services have been suspended to some countries, but FedEx services are available everywhere.
If postal services are not available to your country and you still want your order to be shipped by registered airmail, please select Airmail (Suspended) at checkout, and we will hold your order until the postal restrictions are lifted.
Shipping costs are based on weight and shipping option. You will be able to see the estimated cost in your cart. The final shipping cost will be displayed at checkout.
Taxes & Customs
All our products are sent to you direct from Tokyo, Japan, so that you are able to enjoy authentic kimono and accessories that are not available anywhere else!
Shipments from Japan may be subject to additional taxes and handling fees imposed by the customs authorities and mail carrier of your country and region. Such costs are the responsibility of the customer.
Customs and import rules vary by country and region, so unfortunately we're not able to estimate these in advance. The best way to be sure if any such charges will be applied is to check with your local customs authority.
Within Japan
If you're in Japan you will receive your shipment within 1-2 days on the island of Honshu (the main island, including Tokyo, Osaka and Kyoto), or 2-3 days for the rest of Japan. It may take an additional day if you order on a weekend or if you are located in Okinawa or the outlying islands.
If you're staying in a hotel in Japan, please include the reservation name and room number, otherwise your hotel may refuse to accept your package.
Free Shipping
All orders over US$99 or equivalent (not including shipping fees) are eligible for free shipping, except in countries where registered airmail services have been temporarily suspended by Japan Post. In the USA, where these services are currently suspended, you can still take advantage of Free Shipping on all orders over $149 with Express Shipping!
Direct from Designer
Shipments will be sent the same day or following business day after receiving your order, unless the item you have ordered is marked Direct from Designer.
Items marked Direct from Designer must first be sent to us from the designer's studio, which will take an additional 1-4 working days before your order is sent. All Direct from Designer items are eligible for free shipping!
Tracking your Shipment
As soon as your order has shipped we will send you a confirmation email with a link to your order status. You will be able to track your shipment from there.
If you would like to return or exchange your order for whatever reason, we're here to help! We offer no hassle returns or exchanges within 30 days of receiving your order. You can return your product for a different product, or a refund to the original payment method.
*Please note the following conditions to our return and exchange policy:
Items must be returned unused and folded in the original packaging

Discounted items are not eligible for free returns

Shipping costs are not refundable

You must provide proof of postage showing the postage date within the 30 days

For hygiene reasons, we cannot accept returns on earrings

Items marked Direct from Designer, have a refund period of 7 days instead of 30.
How do I claim my free refund?
Please contact us and we will confirm the shipping address for you to send the item.
Please return the item folded in its original plastic bag (don't worry about the paper wrapping) and send to the address that we provide, noting on the customs form 'Returned Item'. Please note that you must bear the shipping costs.
Once we receive the returned item and have confirmed its condition as unused and undamaged, we will issue a refund not including shipping costs or duties.
Do I have to pay shipping costs?
We offer a full refund of the product, not including the original shipping costs. You must bear the cost of return shipping.
If you received the original order damaged, then we will also cover both the initial and the return shipping costs.
Can I exchange for a different product?
Yes! To exchange an unused and undamaged item, you can process the return as described above and reorder the new item through the website.
Alternatively, when you notify us about a return, let us know which product you would like as a replacement, and we will hold it in stock for you until we receive the original return. Please note, there may be additional shipping costs.
What if my item is damaged?
Very occasionally items may be damaged in transport. In the unlikely event that you item arrives in a damaged condition:
We ask that you contact us within 48 hours of receipt. This enables us to make a claim with the shipping company.
Please keep hold of the damaged item and provide some photos of the damage.
We will issue you with a full refund or replacement, including shipping costs.
Who decides if I receive a refund or a replacement?
You do!
If you are entitled to a refund or replacement as described above, it is your choice which you receive.
If we no longer have the same item in stock, we will suggest one or more similar items. If you do not want the similar item, we will provide a refund instead.
How long will my refund take?
We will process the refund within 2 days of receiving the returned item.